Arabian Oud Nagham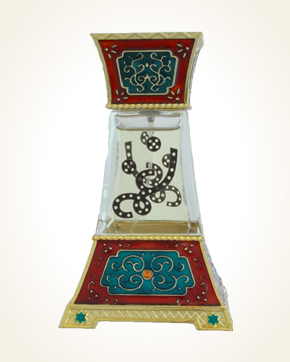 Arabian Oud Nagham
Eau de Parfum 75 ml
Out Of Stock
Eau de Parfum Sample 1 ml
In Stock
Description
The temptingly elegant, fruity floral harmony of tones will accompany you with perfume dreaming in the aroma of Nagham.
The fruity flower concert will be played by mimosa with its smooth, sweetly sweet scent. Citrus freshness is resounded by light chords of bergamot.
Tenderly exotic caress puts on its juicy keys pineapple, which is embraced by a cold tinge of tiny lavender flowers.
The opulent aria is let into the flower arrangement by the headyly sweet scent of white gardenia flowers whose strength and intensity is restrained by plumes of softness from a fluffy white musk.
Feel the seductive tender composition of long-lasting floral tones.

Customer Reviews (1)
Nagham seems to me to be a shining jubilant impressionist work, a large canvas in golden-yellow colors complemented by delicate pastel shades, depicting a still life with a vase unusually filled. The bouquet consists of fluffy balls of mimosa, tiny lavender and a charming gardenia. In the foreground is still depicted flowering pineapple and bergamot. With its positive energy, the picture draws me into myself and is absorbed by the intoxicating sweetish floral aroma with a fruity flavor. The duet of sweet mimosa with delicate fruit loosens the initial euphoric intoxicity into tender airy softness, the warm atmosphere is slightly cooled by fresh lavender to excel the impressive onset of the velvet exciting gardenia. A fresh touch of spring, when the warm air sparkles with rich flowers leaving behind a beautiful, long-lasting trace. Nagham is a wonderful breath of joy. (14/01/2014 - Andrea Ž.)

Have you tried one of our perfumes?
Let us know
how you like it!
You might also like