Afnan Naema White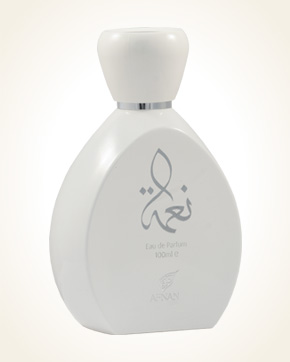 Afnan Naema White
Eau de Parfum 100 ml
Out Of Stock
Eau de Parfum Sample 1 ml
Out Of Stock
Notify me when available?
Description
In the introduction we will introduce pink wood with its herbal floral aroma, which is prosecuted by the light freshness of bergamot and warmly spun sandalwood. Patchouli shows its spicy, sweetish woody scent and evokes an irritating atmosphere for the sensuous musk.
Precious woods and a light hint of flowers combine with oud oil to give the aroma a pleasant, orientally smooth touch that both men and women will enjoy.

Customer Reviews (3)
Evaluation of the aroma Naema White: The first fragrant at the same time feeling lemon fresh bergamot. The freshness does not last long, after about a second it passes into a little stinking wood after rain, into which herbs with patchouli, embraced with sandalwood and oud, which hold the foundation smells together. It smells all day long, even though I renew it as often as possible during the day. I feel with her like in a wet herb garden, next to which tabori beduini :) (30/10/2014 - Vlasta SK)

Today I used the first sample (Naema White) and at first I thought that this is not exactly what I would buy in a larger package. But on my way to school, I realized I felt different. I usually smell before I go to school for my daughter, because I have been running around the apartment all morning, cooking, cleaning and not wanting my hair to smell of garlic and the like. Today I do not smell because of others, today I enjoy the fragrance myself :-) It is the type of fragrance I can use when I read alone in bed. Today I'm not just a housewife who just came home from school and when she drank coffee at the computer, she will go back to the Primary Art School where she will read for almost 3 hours in her parents' corner, today I'm Lady :-) I'm curious for more samples . (Feb 13, 2014 - Milena B.)

But Naema White is from a completely different cask of Arabian fragrances. Non-sweet, sparkly irritating and break-through. Mint and light wood stand out on herbal basis. Patchouli is just to spice up, but does not have a traditional sweetness, here it sounds earthy. (11/16/2013 - Simona J.)

Have you tried one of our perfumes?
Let us know
how you like it!
Notify me when available?