Afnan Naema Black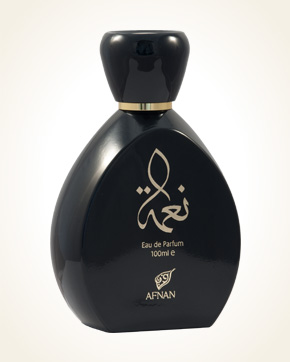 Afnan Naema Black
Eau de Parfum 100 ml
Out Of Stock
Eau de Parfum Sample 1 ml
Out Of Stock
Notify me when available?
Description
The seductively irritating spice, along with precious trees, leads you to the flower path of rose, jasmine and soft violet. The velvety ambergris with a direct irresistible touch of the Orient and a lightly smelled aroma of sweet oud essential oil sail towards the nostalgic carnation with a honey-caramel veil. Eucalyptus with a fresh gust does not allow too much sweetness of honey to win, but holds it only to complement the charm of woody plants.
A slightly herbal trace of sage appears with a smoky earthy vetiver that are tied to a warm-flowing tonka and oud oil.

Customer Reviews (3)
Afnan - Naema Black - had attracted me before, but somehow I was discouraged by the composition of the eucalyptus, so there was no sample. Yesterday came in the package as a gift and wow what a gift is !!! My friend and I tested both - the introduction is very citrus on me, which I do not need much, but after a while the perfume deepens, compacts and becomes a sensual twilight charm, tempting, luscious ... of course, for me perfume completely men. There was no citrus on a friend, and the smell sounded more mysterious. On his skin, this perfume is truly Black, and it's dark, deep ... a deep summer night, a gust of smoldering smoke, a pulsating passion, the warmth radiating from the squeezing bodies, desire, sensuality ...... new favorite :-) (21.6.2016 - Lenka S.)

The black bottle hides a picturesque sensation game where Neama Black begins as a sweetly dense fragrance and ends up like an airy woody smoke permeated siding. The delusion begins with a dynamic symphony of vibrant flowers, the sweetly intoxicating lush chords of violet and rose dramatizes the oud with a baton of cedar and other rare woods mixed with spices. A soft ambergris connects to the tones of the hot rhythm and slowly calms the pace of thoughtful browsing in the caramel syrup. A light whiff of eucalyptus and witch herbs blows out excess sweetness, and the magic of quiet dreaming brings an epilogue in the form of a gentle vetiver smoke veil with ease blending into the last woody tone. Dark, vibrant, hot, velvety, seductive drop of orient. (January 28, 2014 - Andrea W.)

Naema Black isn't really black either. The first impression is powdered vanilla and powdered violet. But violets are not fresh and with stems, but dried to dust and stored in a wooden trunk along with the sweet stalks of cinnamon and cloves. Next to them lie equally dry sprigs of dried roses and long-used nostalgia powder. Sparkle offers almost candied slices of daffodils, iris and carnations. Oud softens everything but definitely doesn't dominate. In the end I perceive significant coffee softness. (11/16/2013 - Simona J.)

Have you tried one of our perfumes?
Let us know
how you like it!
Notify me when available?