Al Rehab Nadine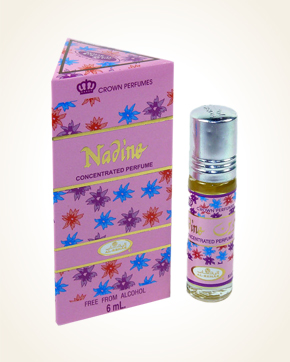 Al Rehab Nadine
Concentrated Perfume Oil 6 ml
In Stock
Concentrated Perfume Oil Sample 0.5 ml
In Stock
Description
A pocket pack of oriental perfume, the big advantage of which is the small size (6 ml of perfume) so that it fits even the smallest handbag or pocket. In addition, perfume is very easy to apply using a ball in the bottle cap. So you can always have your favorite fragrance with you.
The flower garden offers an incredibly flowing scent of jasmine, carnations, lilies, lilies of the valley and roses and tuberoses peeking behind the curtain. Very pleasant and literally velvety caressing scent of all flowers with gentle orange juice support. After a long scent, you will feel a distant tinge of smoke from the burning scarce rosewood.

Customer Reviews (5)
NADINE another amazing perfume that I have for the first time and not the last.

Nadine- is a beautiful, powerful oil.Really there is a great resemblance to Tendre Poison, so we can revive the memories of him. (26/09/2017 - Zdena B.)

Nadine - that is the power, and the memories she brings ... you can't forget Tendre Poison ... and this fragrance, that's it ... thank you for another "discovery" of your beautiful offer. I look forward to more "surveys" (11.7.2016 - Petra Š.)

Nadine - really Arabian Tendre Poison, but by having an oil consistency it will hold longer. (04/04/2013 - Sylva F.)

Your perfumes are so amazing that yesterday a totally stranger praised me for how beautiful I smell (Nadine). Honestly, it never happened to me before and I thought I had to write it to you. Therefore, a big thank you and good luck with your perfumes in the coming years :-) I am currently in love with Nadine. I have it in a pocket size of 6ml, it suits me that it fits in my purse. (12/30/2012 - Hana K.)

Have you tried one of our perfumes?
Let us know
how you like it!
You might also like