Nabeel Nabeel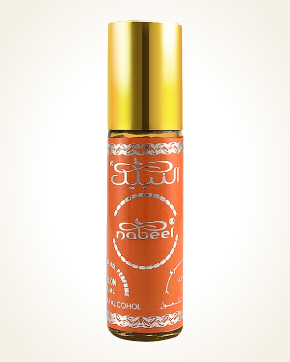 Nabeel Nabeel
Concentrated Perfume Oil 6 ml
In Stock
Concentrated Perfume Oil Sample 0.5 ml
In Stock
Description
Nabeel is an elegant floral chypre with musky light nostalgia, hiding dreamy white flowers headed by creamy ylang - ylang, tender jasmine and glittering cold lily of the valley.
They will play their solo soap reflections for the flower concert, showing patchouli with dry mosses and an earthy moist vetiver, intertwining again with flowers, this time with a softly hungry rose and herbal-attracting sage.
Fresh citrus chords show a slightly bitter bergamot with lemon in a common embrace with saffron solo, which hides a honeycomb and the warmth of animal skin, bringing to the fore a noble amber with oriental reflections of cardamom and the smoothness of cashmere and cedar wood.
Pocket package of oriental perfume, whose great advantage is the small size (6 ml of perfume) so it fits into even the smallest purse or pocket. In addition, the perfume is very easy to apply using a ball in the bottle cap. So you can always have your favorite scent with you.

You might also like