Nabeel Khamis Anis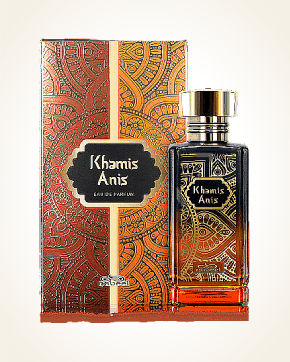 Nabeel Khamis Anis
Eau de Parfum 100 ml
In Stock
Eau de Parfum Sample 1 ml
In Stock
Description
The fruit flood features dark ripe plums, creamy peaches, delicious strawberries, spicy black currants, slightly bitter bergamot and juicy orange, on which balls of pink pepper, coriander, pieces of aromatic ginger and a hint of cinnamon sway.
After a fruity introduction, the scent sways into the deep tones of the Orient, and lets the mysterious chords of oud essential oil in the captivity of gourmet vanilla, which slows it down in its too hard design. So oud essential oil is soft woody, but with an oriental emphasis shifting to flowers.
The tenderness of jasmines and the fragility of ice lilies of the valley, complemented by a nostalgic carnation with opulent tuberose. There will also be a few green touches of violet leaves with ylang - ylang and sweet orchid.
The gourmet chord of lazily stretching, dense caramel elevates the scent into a gourmet line, which blends with the honey velvet of amber, majestic incense and earthy vetiver.
The light conclusion shows the fluffy sensuality of musk, which resonates with the softness of rare trees, especially cedar.

You might also like