My Perfumes Lamsat Harir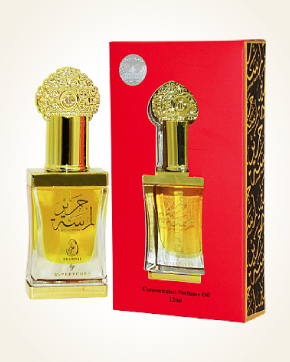 My Perfumes Lamsat Harir
Concentrated Perfume Oil 12 ml
In Stock
Concentrated Perfume Oil Sample 0.5 ml
In Stock
Description
The captivatingly rich scent of Lamsat Harir combines the melange of sweetly overripe fruit, saturated with rare trees with touches of intoxicating, white flowers.
The fruity chords are full of dense nectar of apricots with dark purple reflections of prunes, complemented by exotic dragon fruit swaying on the gourmet honeycombs, with a few fresh drops of slightly bitter lime with lemon.
The intoxicating line of flowers is fully immersed in fruit tones. The sweetly inviting tuberose and the breathtaking gardenia, together with the small jasmine flowers, slightly give way to the softly seductive sandalwood, to which the chocolate pralines resound with their gourmet tone.
A few drops of Lamsat Harir will envelop you with a seductively intense, sweet-carrying scent that spreads all around you.

Customer Reviews (1)
LAMSAT HARIR Greetings again. I received a sample of this oil perfume for the purchase and I must point out that I was very interested in it. Very interesting scent. I probably can't resist and order a larger package. Thank you again for the fast delivery and gifts to buy. Vaše (28.07.2021 - Ája J.)

Have you tried one of our perfumes?
Let us know
how you like it!
You might also like