My Perfumes Arabiyat Blueberry Musk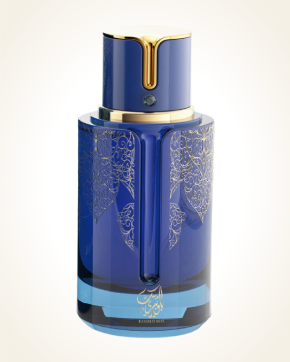 My Perfumes Arabiyat Blueberry Musk
Eau de Parfum 100 ml
In Stock
Eau de Parfum Sample 1 ml
In Stock
Description
The luxurious Arabiyat Prestige fragrance line presents a gourmet scent full of blueberry seduction - Blueberry Musk - hiding in a beautiful, dark blue bottle.
With the first drops, you will be embraced by the sweet gourmet aroma of blueberries blending into ripe juicy oranges and a few sour citrus, from which peels a slightly bitter bergamot and a refreshing lemon.
In addition, the fruit lure is accompanied by a large sugar cane permeated with vanilla tonka.
These gourmet tents are entered with tenderness by their own floral chords, in the middle of which a intoxicating magnolia sounds, combining its beauty with rose buds, fragile fluffiness of orchids and orange blossoms.
Delicious blueberries will once again resonate with their fragrant score, into which the softly sensual musk, whose elegance together with the blueberry aroma end, slowly dissolves.

Customer Reviews (1)
My Perfumes Arabiyat Blueberry Musk, so this scent is absolutely great for me, sweet, full of blueberries, I can smell milky tones, so it's yummy, fruity, I can smell a rose, but so nice, so this is my new favorite. I was absolutely fascinated by all the samples, just beautiful, forest blueberries with candy, cream, a vase of fresh flowers, but great. (02/24/2022 - Katka M.)

Have you tried one of our perfumes?
Let us know
how you like it!
You might also like