Al Rehab Musk Al Aroosah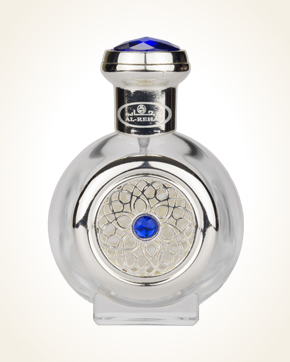 Al Rehab Musk Al Aroosah
Eau de Parfum 60 ml
In Stock
Eau de Parfum Sample 1 ml
In Stock
Description
A very popular scent of pure musk is here for you as a perfume water.
Fragrance light, powdery with a hint of orient, simply exclusive. It gets you with its unique composition, it must be, because musk is one of the basic aromas of the Middle East.
If you prefer delicate, full of fragrances, you are right here. It's as if you are just starting out of the sea, your body is moist, scented with sea air, the heat of the sun.
Perfume carries beautifully on women and men with its seductive overtones, which accompanies musk fragrances.

Customer Reviews (14)
Thank you for the great service of Anabis. Yesterday after noon, I ordered by phone, this morning the package was waiting for me at the post office. Zkouším orient. fragrance for the first time, without first testing the formula and I say that all ratings (see below me) are true! In addition to the selected fragrance, I received a nice personal message from Mrs. Jana, who apparently prepared the package. And that is appreciated! Worse, I have received two beautiful samples to try out the goods and I do not know if my next purchase will be made much sooner than it would be :-). (7/13/2018 - Eva K.)

Al Rehab - Musk Al Aroosah EdP - He finally calls me sir. The prize package arrived yesterday, but only today I had the opportunity to open it and fully enjoy the prize. I wholeheartedly thank you for your handwritten message. Your service and care are perfect. And perfume? Wow, I don't have words. The box is beautiful, decorated with the flower of life, as well as a beautiful bottle, hiding the softness, lightness, innocent purity, but at the same time sensuality. I close my eyes and see loving characters on a white sheet, a fresh breeze blowing through the open window, the noise of sea waves from a distance ... Sex in a bottle ... this scent evokes literally sinful thoughts in me. The opposite of perfume is incredible. Wonderful, thousands of thanks again. (1/28/2016 - Lenka S.)

Al Rehab - Musk Al Aroosah EdP - Tomorrow will be added to my modest collection of your luxury perfumes. I can not wait :-) Once again a big sincere thanks, the joy of your yesterday's mail announcing that I became the winner of this gem was untold !!! I can not wait:-). The perfume bottle is breathtaking, the curiosity of its content is rising and after reading the reviews I am sure it will be overwhelming. (1/26/2016 - Lenka S.)

... and finally I get to the most important thing for me :-) Musk Al Aroosah ...... almost my sense of smell on her ... is so tenderly gorgeous and clean, but fully to feel ashamed as if you were not for sure, she sees it in her modesty ... So I gave her confidence to give me more of her fragrance, then stopped shy, and finally I could inhale the crystal clear crystal fragrance, as tender as a rain puff. .... is beautiful, to reproach is perhaps just too soft for my nose ;-) So I have to show her more and then I enjoy it .... :-) (May 6, 2015 - Romana V.)

Musk Al Aroosah - a beautiful musk scent where my olfactory cells whisper to me as beauty and not to break away. I have to order more magical scents ... (15.4.2015 - Miloslava P.)

He arrived today. Who? Musk Al Aroosah I have, or rather I do not have words that express exactly that incredible splendor. I already have a few perfumes from you and it is wonderful to smell differently than the crowds of "young girls". Thanks for being. (Feb 18, 2015 - Ludmila V.)

Good evening, I have several perfumes from you, one more beautiful than the other. Not long ago, I bought Musk Al Aroosah EdP along with two others and .... I was without him in a moment. My mother "seized" him and today my daughter tried it and wants him too. So I sit with the order and find that it is no longer. Please have a chance min. I'd like to buy it to my daughter for Christmas. It is a wonderful classic, pure and clear fragrance as seen for all generations. (9/28/2014 - Jana H.)

Hello, I just received perfumes and I would like to thank you very much. I am amazed. I was a little worried about my choice, after all, oriental perfumes ... but I made the right choice. Musk Al Aroosah fragrance brought me back to a long time ago when my husband received tiny oil perfumes Magic love and Indian Somer (I don't know how it was written :-)) were musk and this fragrance reminded me of them. Just beautiful and the beautiful bottle. (May 6, 2014 - Olga Š.)

After sniffing the bottle, Musk Al Aroosah didn't smell much, but after I put it on my wrist, it smells incredible. It really is a very nice clean smell. (Nov 27, 2013 - Lenka V.)

Beauty in simplicity. Luxurious fragrance of purity, crystal powder musk, slightly sweet ... Bare feet sink into the sand lining the coast of the azure sea, salty drops run down the skin hot by the equatorial sun, warm air shakes ... waiting for the tide ... (21/12/2012 - Renée H.)

Musk Al Aroosah is a soothing sense. The gentle caress of the gentle, with which the delicate muscular footprint spreads over the skin, warms up with it, creating a scarcely aura of whiteness around you. White innocence. Initial tones bring a few light touches of greenish bitterness. The bittersweet woodiness teases the senses, spins the whole composition and moves away from the scene in a light bow. Slimming ... gradual, short, shaded into gourmet. For a while, a vanilla-pistachio shade appears. Thick creamy sweetness. But the fragrance gets tired of its transformations, settles in the form of whitish innocence, and stays in your presence with all the subtleties of a luxurious body scent. (08/24/2012 - Dalia)

Graceful physical body - Musk Al Aroosah :-) The whipped mass of whiteness into which I immerse myself in my imagination is a fleeting image of eternity floating in blue distance. Embraced by the infinite softness somewhere in the bluish heights, I find a world of radiant silence in which lost permanence is in magical transformations… (24/08/2012 - Dalia)

Musk - a round bottle with blue stones - Musk Al Aroosah, it is so beautiful that I do not even want to work and I would just sniff :-) I do not know where to write the review. (06/08/2012 - Květa S.)

Musk, musk and musk are salty and sweet, light, seductive, fabulous, perhaps erotically tuned, irresistible. That's right, and I'm completely captive to Musk Al Aroosah. Olejíček is more intense and I admit that I struggle with him a little bit, it is harder to rub it, but it is worth it, because the uniqueness of muscular smell is directly god. During the day I spray this fragrance in a spray and I can't smell it ... :-) (July 3, 2012 - Petra H.)

Have you tried one of our perfumes?
Let us know
how you like it!
You might also like