Mumayz Brown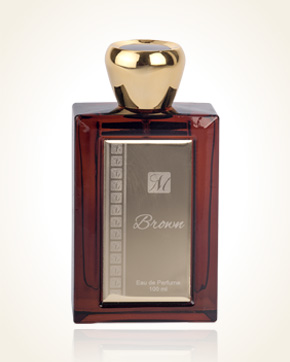 Mumayz Brown
Eau de Parfum 100 ml
Out Of Stock
Eau de Parfum Sample 1 ml
Out Of Stock
Notify me when available?
Description
The smells belonging to the gourmet ones will charm us with its seductiveness. Dark fruit blends with patchouli and incense, and adds dark chocolate, which dissolves in a sandalwood embrace.
It is a fragrance that plays and binds at the same time. It is beautifully dark, but also smoothly smooth, it is both seductive and elegant at the same time.
The strong and intense onset of ylang - ylang and jasmine tones will share their dominance with vanilla and spicy sweet patchouli with a woody echo, as well as a magically mysterious incense. The deliciously scented orange flowers along with gourmet chocolate let dark and overripe fruit and precious woods into their magic.
In the end, we get balsamic tones connected with opoponax to make the composition even more velvety warm - directly delightfully delightful.

Customer Reviews (2)
Mumayz Brown connects an interesting connection of essences, after some time he will wrap his sharp edges, I could imagine it on myself, but also on a man. When I think about my way "Arabic perfumes in edp or cpo" from aoud-pink-woody fragrances to white musk like eg. Musk Abiyad, through flowers with sandalwood, sweet "caress" to some "incense", so I find that some aoudík must stay (but so kind-hearted), musk is beautiful but sometimes he misses sparkle, but incense is astonishment. (5/23/2015 - Stana L.)

Mumayz Brown is initially brilliant as the golden glare of the sun in a cup of melted treat, which becomes ashamed, darker and more seductive. Tempting as a quality chocolate in a gift box, a sandalwood box where gourmet tones burst from its raised lid and the desire to taste rises and rises. First, he gets his nose in the form of intoxicating orange flowers drenched with chocolate and immersed in pieces of fruit jelly (the idea of full-dipped Christmas arabesques jumped alive). The delicate invasion after a while begins to give way to the smooth sandalwood, which carries a fluffy vanilla cream, the sweetness of which is later supplemented by a warm, warm spicy-woody veil. The delicious geyser mixes, soothes and dissolves in the arms of jasmine to eventually dissolve into a beautifully sweet opoponax with a velvety balsamic siding. The variable, irritating, brown beauty plays with our olfactory cells to enchant us with its sophisticated gourmet elegance with a smooth cloud and excellent stamina. She didn't leave me still. (15.4.2014 - Andrea b.)

Have you tried one of our perfumes?
Let us know
how you like it!
Notify me when available?
You might also like