Khadlaj Mukhallat Emaraat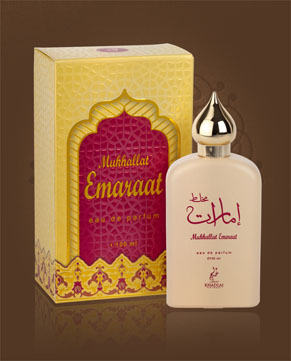 Khadlaj Mukhallat Emaraat
Eau de Parfum 100 ml
Out Of Stock
Eau de Parfum Sample 1 ml
Out Of Stock
Notify me when available?
Description
Seductive and tender at the same time, this is the queen of flowers - the rose of Taif, and when combined with the nostalgic tones of the carnation and the cool lily, irritatingly inviting chords arise.
The moss-dry nuances of tobacco, together with the spicy herbal patchouli, give the impression of irresistibly attractive tones. Rare woods are added in a honey-dense bath to make the intensely showing rose stand out again, this time with an oud accompaniment.
In the end, there is a barely perceptible hint of smoke from burning rare woods and tones of dusty vanilla.

Customer Reviews (2)
... Mukhallat Emaraat perfume from Khadlaj, which I received from you today, is perhaps my most successful blind purchase so far. The smell is even better than I imagined. It's actually a much nicer, Arabic variant of Agent Provocateur and Lady Vengeance Juliette Has A Gun. Other ordered samples are beautiful. Surely I will not stay with just this purchase! Moreover, a nice gift made me very pleased. (11/7/2014 - Vivian AS)

Rating Mukhallat Emaraat: With a bouquet of roses in my hands, I enter the sejkova palace. Everywhere there are ligaments with different types of flowers, carnations, lilies, roses. The princesses are just picking from scented fabrics and eating honey cakes sprinkled with vanilla sugar ... A narcotic smell of scented lamps envelops this scenery ... I loved the "first feeling", it's amazing! Typical oriental, there is nothing european.Vydrz is all day. (Oct 30, 2014 - Vlasta SK)

Have you tried one of our perfumes?
Let us know
how you like it!
Notify me when available?