Muattaq Muattaq 88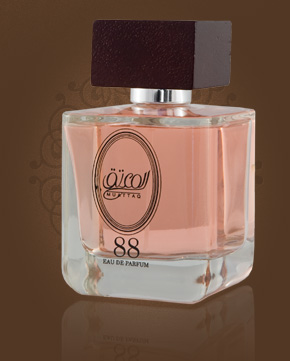 Muattaq Muattaq 88
Eau de Parfum 100 ml
Out Of Stock
Eau de Parfum Sample 1 ml
Out Of Stock
Notify me when available?
Description
Tender, elegantly seductive, as the perfumes of this Niche range are, so is Muattaq 88.
The floral fruity perfume in the opening tones presents us with a cobweb delicate veil of May rose and a delicate, transparent peony scent. It adds a caress of vanilla dust with the gracefully sweet scent of gardenia. The sweetly intoxicating magnolia opens its arms for the chords of fruit dominated by ripe apricots.
Hardly noticeable smoke from smoldering rare trees appears to be replaced by the harmony of orange flowers with the cool-sounding lily. The flower concert continues with a soft wave of mimosa and slightly added tones of jasmine, to which a sensual line is added by a seductive and long-sounding musk tone that concludes this concert.

Customer Reviews (1)
Eighty-eight is an almost pure flower. Such little Adéla, which engulfs me in her soft velvet white-pink chalice, the green leaves help me not to fall out of the intoxicating arrest, and only when I am sufficiently dazed do I spit back into reality. The charm of this fragrance lies in the masterful blending of individual floral tones so refined that the perfume is neither striking flower, nor too fresh or too sweet. Just everything just in perfect harmony. A beautiful, tender, crystal-clear, appealing, highly elegant and very feminine combination gently laid in a dusty vanilla with a drop of sweet apricot juice with the addition of a stinging, stinging musk. Shy sensual beauty worth sin. (03/12/2014 - Andrea Ž.)

Have you tried one of our perfumes?
Let us know
how you like it!
Notify me when available?
You might also like