Afnan Modest Une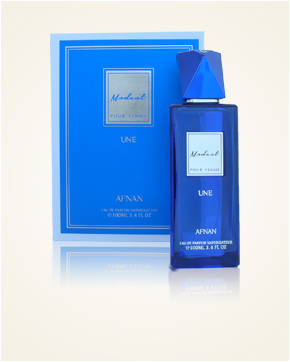 Afnan Modest Une
Eau de Parfum 100 ml
Out Of Stock
Eau de Parfum Sample 1 ml
Out Of Stock
Notify me when available?
Description
Modest - this is a pair of captivating fragrances, masterfully composed ingredients of Afnan perfumes, it is also a visual experience of elegantly created perfume bottles with brilliant Swarovski crystal.
The crimson flacon hides the Modest Deux and the Royal Blue you will find the Modest Une.
Modest Une

The fresh gust of water spray, which combines with woody plants, creates a particularly appealing introduction to perfume that both women and men will enjoy.
Lightness and freshness continue in another seductive citrus tint, which intertwines with the queen of flowers, velvety roses.
Mystical scent of rare resins with a touch of fragile beauty of violets binds its composition. The earthy, soap-swaying chords of patchouli resonate with floral glare and a cool water echo.

Customer Reviews (2)
Hello, Mrs. Lenko and Mrs. Jano, I have finally found the right words and I am sending you a review of Modest Une, my favorite perfume. An extraordinary, mysterious fragrance for an interesting, life-matured woman. I will say it with a story: Imagine a lady of waters invited to a summer party. Wrapped in a magnificent bright blue, flowing dress with a water-green pleat, it emerges from the middle of the sea to make the violets in her hair and a headband with roses a jewel of the evening. At every step, you can feel the atmosphere of a summer evening - a subtle citrus aroma blends with the early evening scent of local woody plants, underlined by the grounding aroma of the resin. A light gust of violets rises from the headband, turning into a fragrant touch of stunning roses. She's a knowledgeable woman, yet with a girl's heart. Close to nature, close to people, retaining its secrets, which it retains with refinement. This fragrance helped me pick Mrs. Jana last year and Mrs. Lenka sent it to me this May at lightning speed when I wanted to be "unfaithful" to keep her graduation (at the age of 55). captures my self. Ladies, thank you! (7/18/2018 - Jindra V.)

Today I got a sample of this fragrance, I already have in a red flacon, but this blue, it is beauty, I feel the violet, something very beautiful, but I can not recognize it yet, well, nose stuck to my wrist, but I see it , so I need moooooc to the collection, I just have to have it !!!! So I hope one of them will wait for me. Thank you and I wish you a lot of enthusiastic customers like me.❤ (22.6.2018 - Helena K.)

Have you tried one of our perfumes?
Let us know
how you like it!
Notify me when available?