Al Haramain Mena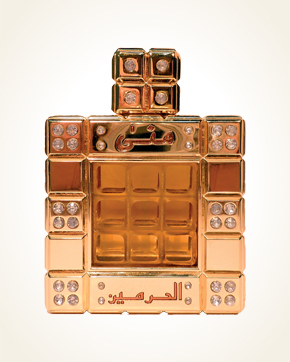 Al Haramain Mena
Concentrated Perfume Oil 25 ml
Out Of Stock
Concentrated Perfume Oil Sample 0.5 ml
In Stock
Description
Flacon in the shape of a crystal domino in a gift box impresses us with its reflections, silver polka dots, which shine beautifully in gold framing.
After applying the first few drops of perfume, we can feel oriental sweets, vanilla sweetness, citrus peel bitterness, dryness of the cut grass, withered grass, but also the honey-permeated flower garden. A few honeycombs of this sweet temptation are hidden, yet its fragrance irritates for more and more fragrance.
Everything is intensified by a small dose of oud oil which only caresses and gently completes the beautiful fragrance. The flower corners show us a delicately beautiful magnolia trace, ylang-ylang.
If you want to enter into an irritating seduction with sandalwood and cedar wood in the background for at least a few moments, then apply a few drops and be seduced by the intoxicating scent that will immediately surround you. Initial, slightly bitter and fruity tones become sweeter and vanilla with oud oil takes over.
The intensity of the perfume is amazing, beautifully envelops its wearer, like a silk shawl that warms and decorates. You can even feel cloves, cardamom, but also a distant rose with perhaps a hint of jasmine, which attracts to scent the wrist, neck and décolleté…

Customer Reviews (8)
Mena - last winter I ordered several fragrance samples for which I was excited about reviews. The currency was among them. Full of expectations, I put the Menu on my wrist and I do not know if it was just a moment before I tested other fragrances or I could not appreciate the Arabic perfumes containing oud, then just disappointed me. According to the reviews, I was expecting the aforementioned scent of honey and vanilla, but a strong scent rolled on me, from which my head ached and so I immediately rejected the Menu. After a while I tested again, but even then did not charm me. Today I found in my purse a gift bag with samples (as they were sent to me then) and among them also Menu. I couldn't resist and applied some oil to my skin. Obviously I'm already spoiled by your perfumes and I come to taste even the most complex fragrances, because this time Mena is exactly as your other clients write in reviews. I recognize the mentioned honey, vanilla, narcotic Magnolia mixed with Ylang, a fine stripe of sandalwood smoke and sensual oud ... I do not recognize grasses and cedar wood clearly (in my case it is a success that I can recognize at least some ingredients in perfumes .. .), but when I know about them, I realize that they give perfume along with oud a special refinement and sensuality. Such a beauty !!! I will have to change the list of the desired perfumes and extend it with this gem ... and it made my list so promisingly thin ... The currency is not a perfume for everyone ... I had to rip it into ... (5.8.2016 - Lenka S .)

MENA - is a beautiful perfume, flacon is breathtaking and the content even more beautiful.After the first application is a lot of smell of cedar wood, sandalwood a little reminds me of KHALTAT MARYAM perfume, but really after a while the smell changes like a chameleon and it is something absolutely wonderful, you can smell the delicate vanilla with honeycomb, but definitely nothing sticky. A delicate sweet smell that will bring me into the warm desert .... Oh gorgeous. (Jul 17, 2015 - Veronika H.)

Mena - this is a wonderful delicacy among CPO. I received a gift in the form of Arabian sweets, among which was honey. Then all I had to do was sit back, scent Mena, take a teaspoon of honey in my mouth, close my eyes, and - I moved into a beautiful flower-citrus garden, a huge tray full of oriental sweets sunk in thick vanilla-honey syrup in front of me. the smell made me smell, and I felt like on a cloud ... Mena smells all that, I'd love to bathe in it, how wonderful it is. (June 22, 2015 - Katarína P.)

So far I have taken small packages from my handbag and I have always been very satisfied, the smells can be worn everywhere and have a few at hand ... yes. When I succumbed to the descriptions of your clients and ordered my first large package of luxury perfume. It's Mena, and that's something! Perfume bottle and packaging for both the princess and the smell, um ... it sabers like a soft scarf and so beautifully carried all day. I'm so excited that I'm already looking for another big flacon - Sharina. (10/22/2013 - Petra K.)

Mena - beautiful, heavy cassette and mysterious-looking flacon. The content has completely missed my idea as it develops on my skin in the opposite direction to that in the description. : D At first oud, quite expressive, warm, bitter, smoky, rich and beautiful, just the way I like it. As he recedes, all kinds of goodies appear, from vanilla ice cream to hot cocoa, velvety whipped caramel mousse to cappuccino, and perhaps a small trace of cardamom. Beautiful in her unusual and unpredictable. (Jun 29, 2013 - Simona J.)

Currency - Arabic sweets. Magnolias and ylang went to the shop with incense sticks and spices, rolled in honey and vanilla was added. In order to avoid tooth aches from such sweetness, oud arrived in a moment and quickly led all the ladies involved into a balanced bittersweet appearance. This is an orthodox orient, no Go west style. The smell was great and the flacon was wonderful. (17/07/2012 - Dana N.)

Currency Sweet coquettish. The first touch of Mena is in the name of bitter woodiness. The mask of the harsh lady with which the actress covered her real face. Nothing but a mask, of course! How many championships must be included in a bunch of great actresses to become her nature? Every drop of Mena hides an answer to this secret. Whether it will be revealed to you is up to you. The bitterness of the opening tones is slowly disappearing before the soft, sweet balsamic chord. For a while, the actress lazily lays, and perhaps only the sparkle in the dark almond eyes can be a revelation that lazy sleepiness is also a game. For a long minute, the audience is part of that slowed passage of time, sensuality becomes a great thing… it touches you… you breathe it… es vuestra la vida! A hint of smile ripples the actress's lips and is the moment of transformation. As if being itself was given another charge. Time again became the ruler of his passage and ran to bring trembling joy and a touch of unexpected innocence. The rosebuds have unfolded and their sweet fragrance gives the world their admiration of adulthood. The promise of sin slid to the actress's feet like a dark veil. The audience sees a girl in front of her, whose tenderness is perhaps the aura itself. Mena plays her part in the spirit of sweet coquettish. The woody chord remains a part of it all the time, but its sweetened nectar of flowers is also of its own. How many masks does life itself? And how many actors are playing their part? I ask, and at the same time answer, what to know? After all, life itself is a mask and a stage, it is a part of everyone… us. (05/07/2012 - Dalia)

I couldn't resist the offer. Behind every scent I saw my specific friends. Behind some I already smell myself. Surrounding reactions to scents are interesting. Nothing. Embarrassment. Or an unexpected reaction tonight in the store. Now it smelled so ... Mena. After 8 hours she stroked the tired cashier in the market. This is a compliment to the Fragrance Home by Lenka. I had to pass positive. (06/10/2011 - Zoja S.)

Have you tried one of our perfumes?
Let us know
how you like it!
You might also like