Al Haramain Matar Al Hub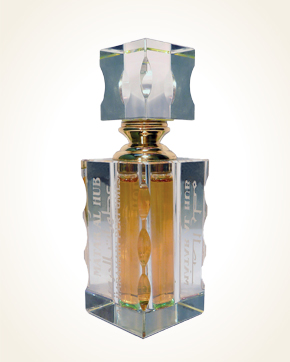 Al Haramain Matar Al Hub
Concentrated Perfume Oil 12 ml
Out Of Stock
Concentrated Perfume Oil Sample 0.5 ml
Out Of Stock
Notify me when available?
Description
Exclusive cassette lined with satin cushion reveals a crystal bottle and at first glance we know that it will be something beautiful, charming, directly unique.
Let's play a game of charm and seduction. Let's enter the world of bang, fire and passion, which are the feelings that will fill you, and wherever you go, after the first few drops of this perfume that you apply lightly to your wrist. Experience a crush of peach, which is tinged with sweet oud oil. Feel the incredible feeling of an explosion of precious trees that will sweep through you immediately.
This perfume is a locked world of luxury, wealth, splendor, but also mysterious nooks. The caress of ambergris, the sensuality of the musk, the revelation of patchouli, all associated with honeycomb, shows beautiful, happiness, well-being, all reflected in the eyes, and yours glitter like the brightest stars, and this may be the perfume effect.
The delight you feel from the scent that envelops you as the finest silk, pampering like velvet, fills you with a sense of satisfaction and desire to discover more tones of this little treasure hidden in a very luxurious bottle.

Customer Reviews (3)
For a long time I was looking for a perfume to cover myself, who would caress and be warm. Today I received a set of samples and the third was Matar Al Hub. It is literally a gem and I think it will be the right one. Thank you very much and I'm going to try other samples. (1/6/2016 - Martina S.)

Good evening, this afternoon was marked by amazing scents - at first I still puffed on Superman, and somehow I didn't have the courage to open the treasure box. It wasn't until late in the evening that I couldn't hold it any longer, and it was worth it. Not only does the beautiful flacon play rainbow colors, but it is also stored in a great cassette. And the main thing - the smell, I can't even sleep now. In short, Matar Al Hub is perfection itself. Matar is a darling. (2/17/2012 - Marie T.)

Matar Al Hub - Temptation did not disappoint. Again. As you described. I'm still looking for a way to describe my perception of these scents. Maybe it's just their original composition of flowers, musk, just all natural. And it awakens forgotten instincts. I'm not afraid to say that it awakens the senses. All. The cassette itself is so beautiful ... I couldn't resist. Fragrant downspouts are so amazing. A caress of fragrant oil is a step behind Alice's mirror. I like harmonic differences (30.1.2012 - Zoja S.)

Have you tried one of our perfumes?
Let us know
how you like it!
Notify me when available?
You might also like