Afnan Malika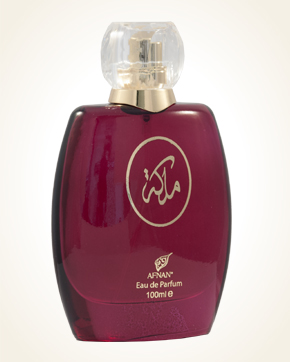 Afnan Malika
Eau de Parfum 100 ml
Out Of Stock
Eau de Parfum Sample 1 ml
Out Of Stock
Notify me when available?
Description
The beautiful combination of rose with raspberries and blackcurrants at the outset conjures up a special combination of fragrance that embraces the oud oil. There is warm sandalwood and cedar wood with some fresh citrus juice.
Pleasant and slightly woody tones blend in with the soft ambergris and the purity of the sensual musk. The lure of fruit and flowers presents a seductive attraction with a tender and warm-sounding echo placed on dusty vanilla.

Customer Reviews (3)
Malika is a beautiful fruity woody smell. Really beautiful. And I would say that it is more suitable for winter with its beautiful woodiness. God, I really love all your scents. My favorite from our perfume has always been Jill Sander Style (and of course I still love it), but since I got to know your angelic fragrance, I couldn't get away from it anymore and my unforgettable nose still wanted to get to know other unknowns! Now that I smell Malice again, there is a certain resemblance to the Jill Sander style, a bit larger than Sacred. And even though Jill Sander has a pretty good stamina, you can't compare it to your scents. (3/18/2014 - Romana V.)

In the cool shade of a romantic gazebo, surrounded by a magnificent garden, like a fresh breeze, a gentle oud of clear glasses heaped with sweetly juicy poured raspberries with lightly wound blackcurrant berries mixed into a refreshing refreshing cocktail. The large-flowered rose intertwined densely between pergola ornaments and, in the hot summer sun, its full intoxicating aroma blends with aromatic fruit. Ruby drops of seductive nectar moisturize vanilla, from which a spicy cedar with a sweetish sandalwood carries a glowing ambergris imprint. Crystal musk smooths the whole composition into a sinful, playful summer beauty. The fluffy sweetness of Malika is a wonderful warming source for me in cold days, it tempts you to admire lounging in the summer, just close your eyes… Another bonus is pleasant stamina and unobtrusiveness. To the third of all good, one of the few scents, I do not mind oud, which is all the time present and emphasizes the overall establishment of beautiful composition. (26/11/2013 - Andrea Ž.)

Malika - a boldly built hybrid of the Orient (oud, spices) and sweet summer fruit. Who would say it can tune in? Okay, and how! The first impression is spicy oud, but it is quickly asserted by fruit headed by hot raspberries, a non-sweet red rose and a spicy-sour currant. The aroma is incredibly changing, maturing, roses and oud begin to prevail, sweetening vanilla and woody tones, slightly oiled sandalwood and a hint of cypress. Malika is unmistakably oriental, beautifully spicy and will last for a very long time. (Nov 20, 2013 - Simona J.)

Have you tried one of our perfumes?
Let us know
how you like it!
Notify me when available?
You might also like