Al Haramain Makkah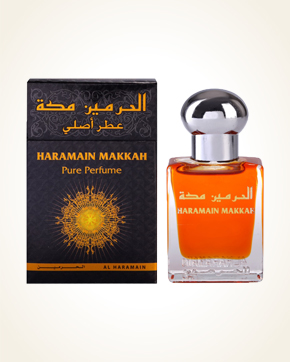 Al Haramain Makkah
Concentrated Perfume Oil 15 ml
In Stock
Concentrated Perfume Oil Sample 0.5 ml
In Stock
Description
Pocket package of oriental perfume (15 ml CPO) in a bottle with a ball for easy application.
Delicate, fruity musk fragrance. Strawberries with vanilla will show up at the beginning of this fragrance in order to let in a linden flower with a little ginger. Chocolate along with honey will enchant you as the scent smoothes and develops.

Customer Reviews (9)
The scent of MAKKAH makes me feel deja vu as we walked the markets and the Arabs lured us to their shops to buy something. You really know the oriental style of this scent. I smell strawberries (decently) and a little ginger, a crumb of chocolate is added only after a few minutes of scenting. The scent is nicely balanced and transports me to the moments when it was evening, we walked in flip-flops and still had hot legs, and walked through the markets with lots of drums, souvenirs and all sorts of decorations. (10/17/2020 - Paul F.)

Vune Makkah was already blowing out when I opened it. Especially woody and sweet at the same time. It's a beautiful combination and the manufacturer was so skilful of eating into a super sexy rollon package. It looks luxurious. Thank you. (11/08/2020 - Dominika M.)

My first impression of Makkah CPO - Strawberries briefly and the association on the scent of "hospital" where it was used to clean disinfectants lysol. But my husband said it was finally the first smell he liked about me. :-) (4/26/2015 - Marie Š.)

Makkah - I got two birthday packages from my husband. It's so beautiful that I paid the first pack in two weeks. I smelled with her even when I went to bed. I couldn't get enough of it and this feeling is still there. Incredibly. Perhaps no scent has yet to "get". The first fragrance to the bottle resembles the smell of luxury expensive cognac, then the smell becomes sweeter and the strawberries are smelled. A colleague at work asked me what I smelled of smelling wild strawberries. I call her - strawberries are there although I don't know if the forest. Honey gives the aroma a special fullness. Vanilla again softness. They are literally fragrant feasts. The fragrance is subtle and luxurious. Distinctive yet not blatant. Every day it smells a little different - it's still evolving. Really strange. And the smell of linden blossom is literally excellent. When I went with my husband under blooming lindens in the spring, I tell him - do you feel the linden? It's almost like a perfume. And I wanted to have a perfume with the smell of linden blossom. This fragrance has it. I will certainly order this fragrance repeatedly. I really like it - I recommend. (11/16/2014 - Jiřina K.)

Well, I order Makkah now, my sister has the smell and since I smelled it ... I have probably become an addict: D (15.10.2014 - Lucie B.)

Perfume oil (CPO) Makkah makes me happy (so far only a sample) so strong that I cannot express the sweetness and sensuality of CPO perfume in words. When I stay somewhere and then another person walks into the room, I hear him say "what does it smell so beautiful"? It's a sweet caress for the soul. (3/21/2014 - Jana Š.)

Awakening at the dawn of summer… The first rays that accompany the nascent day are the key to locked eyelids and promise… they are the most beautiful light that will spark even the darkest dream. (03/08/2012 - Dalia)

Makkah is a fragrance full of intoxicating juiciness, and its fullness gives the impression of the golden-orange rays of the sun that rose above the horizon a few moments ago. A subdued glow, wandering endlessly, to shake a thin string down to the depths of our soul ... The gentle touch of citrus is the opening key of the whole fragrant composition. Slightly fruity, nectar, trace that is slowly smoothed by the aroma of orange flowers. The flowers are all around, a whole flood of small white jewelry that nature has decorated a bit of herself. Finally, the flower chant is silenced into a barely audible melody and the final chord of the flower, ambergris and muscular caress rises in silent reverberation. The pulsating tremor of the foreplay blends in with the calmness of a fully played piece, and Makkah's skin matures from the youth of summer dawn to a beautiful, hot and long day. (02/08/2012 - Dalia)

Otherwise, I was quite excited about the oils I ordered now. My friend, especially Makkah, reminds him of our stay in Morocco, Bedouin shops and so did it in our room, amber cubes smelling of honey and spices. Beautiful memory. (1/26/2013 Renée H.)

Have you tried one of our perfumes?
Let us know
how you like it!
You might also like