Arabian Oud Majestic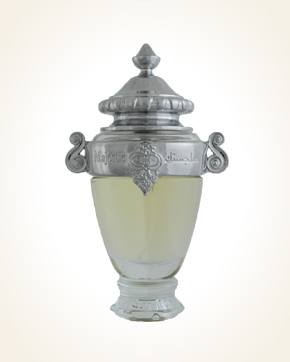 Arabian Oud Majestic
Eau de Parfum 100 ml
In Stock
Description
Majestic perfume is the embodiment of the concept of unrivaled beauty and specialty.
The opening tones take us to the seductive waves of wild roses, bergamot infatuation, and a few bitter echoes of wormwood. There is elegance that will engulf you and, with its exclusive style, outline the path of refinement lined with precious oud oil along with sandalwood.
Saffron glows gently to let in the vanilla hyacinth. The tenderness of the white neroli flowers will bring refreshment to this exalted beauty.
The mysterious magic of Oriental dreaming is represented by incense and in its fullness is complemented by balsamic resins along with davan oil. Musk will add to its excellency of fine powder.
The perfume masters have given us the perfection that will accompany you throughout the day, as well as the night, with its majestic footprint.

Customer Reviews (3)
Majestic edp is a bet on difference. It is a solitaire among scents and is aware of its beauty and its uniqueness. It cannot be compared to another perfume even remotely. From the beginning it is clear that although the fragrance is rich, the fragrance is very fragile, but not fresh. Tones of unsweetened roses are opened, with stems and leaves, and spring flowers are ground in a pure form and free from sweetness. Everything is richly powdered with dried wood. A moment later, a green garden, without flowers, without the sun, austere, overgrown, barren and cold, cuts through. To perfection is added incense with gentle smoky, ice like metal. Although I do not like descriptions of associations, because they are always extremely subjective, here I cannot forgive one. It evokes a cold autumn day full of fog and cold, frost-frosted frosts in the morning and wind blowing across the Dartmoor moors. (08/07/2014 - Simona J.)

Arabic perfumes evoke strong associations and perceptions, colors, feelings ... stories ... they are works of art and so cannot be otherwise. Majestic ... just say his name ... with a trembling hand untie the ribbon of his fabulous packaging, the touch of the cold glass of a heavy luxury perfume bottle, the first press of a sprayer, a breath ... and a story unfolds before the eyes, a kaleidoscope of images runs ... it is pinkish, like a haze in the early summer morning, and satin white with golden reflections, like the sun rising overhead at noon ... Fluffy, like white lace on a silk petticoat, fragile, like plain porcelain ... Noble and majestic, extraordinary ... as a work of love ... homage to a loved woman, a palace ... a monument ... carved out of marble by the hands of ancient artists ... adorned with intricate reliefs and precious stones ... the love and immense sadness of the great Mughal ruler for his noble wife, pearl of the palace ... floating between heaven and earth ... blow your breath ... pink morning, milky white evening, gold glistening in moonlight ... "crown p alace "... is like him ... Majestic. Hot fragrance ... trembling ... david oil from yellow small flowers, sacrificed to Shiva, sweet, fruity woody with a hint of vanilla ..., a rich scent of orange blossoms, a light trace of bergamot and delicate hyacinths, frosted by falling dew, elegant white rose ... the queen of flowers in this magnificent work must not be missed, warm sandalwood with a decent signature of precious balsamic resins, a pinch of true ambergris ... the impression of subtlety and pure femininity is enhanced by a handful of powdered musk. Representative and elegant, with luxury and refinement. Perfect work. (03/03/2013 - Renée H.)

Majestic seems to have something to do with Lyric, though the composition is different. Amouage, even if it's another brand, I would put it "holported" to the Arabian Oud. I think they would even get along. Majestic enchanted me with his scent, so I put a little under my nose ... :-) Majestic is a majesticly beautiful scent. (29/12/2012 - Sylva F.)

Have you tried one of our perfumes?
Let us know
how you like it!
You might also like