Maison Alhambra Narissa Poudrée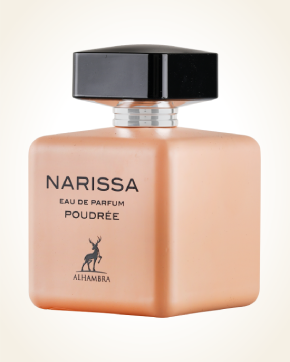 Maison Alhambra Narissa Poudrée
Eau de Parfum 100 ml
In Stock
Eau de Parfum Sample 1 ml
In Stock
Description
Narissa Poudre is an elegant, subtly seductive fragrance that envelops every woman in a sense of luxury.
The opening touch of citrus shows a fresh lemon, penetrating an icy shard, which is decorated with bitter bergamot, to which the romantic duo of velvety roses and sparkling orange blossoms flows.
White-blooming jasmine shows its individual nuances of tender green, still-wrapped flowers, gradually transitioning to the full and intense scent of blossoming, sweetly opulent jasmine, accompanied by the fleeting green of leaves, stems and moist roots.
A flash of tender fluffiness filled with eroticism, this is sensually caressing musk.
A touch of sweet roasted almonds with a touch of caramel, shows coumarin in the embrace of majestic cedar wood.
An accord of earthy greenery opens with a smoky shade of vetiver together with the herbal smoothness of a soapy patchouli undertone.
The fragrance of Maison Alhambra Narissa Poudrée is inspired by the Narciso Poudree perfume by Narciso Rodriguez.

You might also like