Maison Alhambra Jean Lowe Matiere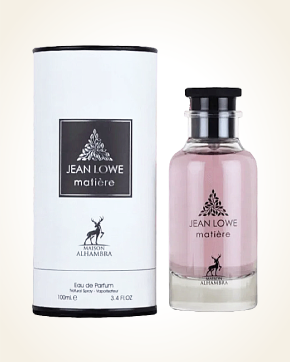 Maison Alhambra Jean Lowe Matiere
Eau de Parfum 100 ml
In Stock
Eau de Parfum Sample 1 ml
In Stock
Description
The opening notes of enticingly delicious blackcurrant syrup are aired by a cascade of drops from a gushing fountain, into which the golden reflections of daffodils are drowned, accompanied by a flood of cypress colors.
A green touch of dry grasses with several shades of tobacco dustiness, these are the accords of daffodils, to which velvety roses and white-glowing jasmine resonate.
Swinging into the deep notes of mysterious, peculiarly bitter, but also softly smoothing, oud oil is connected with the green earthiness of patchouli and the smoky trace of incense in the very end.
The Louis Vuitton Matiere Noire perfume was the inspiration for the Maison Alhambra Jean Lowe Matière fragrance.

You might also like