Maison Alhambra Exclusif Rose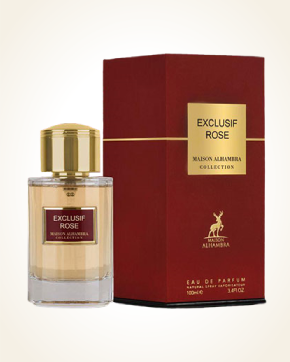 Maison Alhambra Exclusif Rose
Eau de Parfum 100 ml
In Stock
Eau de Parfum Sample 1 ml
In Stock
Description
The elegant beauty Exclusif Rose opens with fruity accords that ring out slightly bitter bergamot with a citrus wave, the crisp freshness of green pear and the exotic, sweet and sour lychee.
The onset of lovely flowers begins with a fresh floral fantasy on peony petals, a velvety fruity Bulgarian rose and a Turkish rose with a fresh chypre undertone, whose greenery is enveloped by a vanilla aria.
After the floral solo, a woody softness intertwining with rare woods is heard, at the head of which is majestic cedar together with smooth milky sandalwood, interconnected with the fluffy fluffiness of musk clouds, which alternates with another hint of chypre earthiness, with several dry smoky echoes - vetiver.

Customer Reviews (1)
Exclusif Rose, so it's simply a classic oriental, both embroidered, but really luxurious, a dark red rose, finished with peony, fruit, and the rest of it blends in lightly. The smell is sweet enough but magical, palace, red roses, dark, burgundy velvet, fruit on the table, in the distance the smell of incense, open window to the garden where there are peonies, they flash but they are there, well I have a sample but there will probably be the whole bottle here, the smell is mysterious, simply mysterious, magical. (19/01/2023 - Kateřina M.)

Have you tried one of our perfumes?
Let us know
how you like it!
You might also like