Asgharali Lulutal Bahrain Durat al Bahrain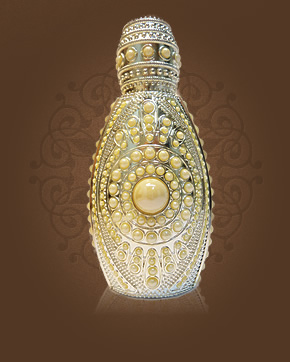 Asgharali Lulutal Bahrain Durat al Bahrain
Eau de Parfum 50 ml
Out Of Stock
Eau de Parfum Sample 1 ml
Out Of Stock
Notify me when available?
Description
Coolly mysterious fragrance full of contradictions hiding in a beautiful silver bottle with pearls, will play the game with chords of flowers, trees and musk.
The introduction includes a slightly fresh fruit key with bergamot, to which is added tobacco and the smell of the forest represented by pine. Unique is the combination of roses with the intense aroma of white flowers of jasmine, gardenia and excellent lily. Zlehoulinka peeks lily of the valley whose cold is warmed by sandalwood and velvet ambergris.
Sensual softness with a gentle embrace of musk and tonka is submerged in the earthy tones of vetiver and moss. The aroma is particularly attractive with warm sweetish precious woods that blend in with intoxicating tones of flowers and a fresh cold with barely perceptible smoke of smoldering rare resins.

Customer Reviews (3)
Duality is eternal and Durrat al Bahrain is a parable of it. The tenderness evoking floral tones blend with admirable lightness with deep chords of sandalwood, moss and a subtle tobacco aroma. The light touch of a lily of the valley plays the chord of innocent playfulness, while jasmine and sandalwood together form an erotizing connection, so characteristic of them. The fragrance is both soft and harsh at the same time, the sweetness here combines with bitterness, it is neither light nor dark, it is both like the flashes of sunlight shining through shady nooks. Female fragility permeates everything that is immanent men… duality is the creator of unity. (13/7/2013 - Dalia)

Durrat al Bahrain Dying alone, crying in sobs, dancing timelessly, darkness my lady ... With the sounds of silence, the glory of eternity celebrations, the moment of power of passing, dancing together, my lady of fragility ... Night and day ... pas de deux. (7/13/2013 - Dalia)

So with Durat al Bahrain, perhaps it was a premonition that we got to him in conversation. In conjunction with EdP it's cool beauty promoted to second. And I have already explored the "cigar" cassette Ramdan ... now I am totally trapped by the Orient and I feel there is no way back ... (18.07.2012 - Ivona N.)

Have you tried one of our perfumes?
Let us know
how you like it!
Notify me when available?
You might also like