Al Rehab Lovely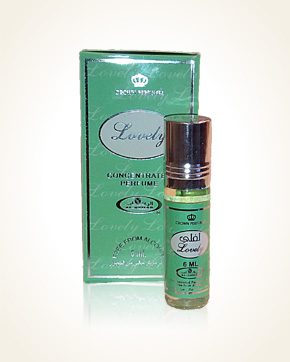 Al Rehab Lovely
Concentrated Perfume Oil 6 ml
In Stock
Concentrated Perfume Oil Sample 0.5 ml
In Stock
Description
A pocket pack of oriental perfume, the big advantage of which is the small size (6 ml of perfume) so that it fits even the smallest handbag or pocket. In addition, perfume is very easy to apply using a ball in the bottle cap. So you can always have your favorite fragrance with you.
Yes, exactly by name, beautiful, tender floral scent. In the foreground with amazing orange flowers, backed by a little warm-flowing musk. Peach and strawberry peek timidly and after perfuming the perfume is classified as a floral fruit.

Customer Reviews (5)
Amazing sweet scent! I adore her❤️. Thank you very much for the recommendation from Anabis ❤️ (20.12.2022 - Šárka Ch.)

Lovely came to me as a gift, a beautiful scent of purity, delicate, smooth, I think pleasing to all categories of women. I will definitely order as a gift for a gift. I can only recommend. (31.05.2022 - Eva Č.)

Lovely CPO ...

Al Rehab - Lovely is a beautiful fruit plant, I can feel the most strawberries, is directly to eat, I have already infected other friends and this fragrance own. Certainly worth attention. It has incredible stamina and carries behind you as a veil ... (22/06/2016 - Lenka G.)

Hello, now this weekend my friend gave me the fragrances she picked up from you. I have to say that I'm excited about them, especially the CPO Lovely. Does EdP Lovely smell the same? I would definitely order it from you. Too bad I live so far, I would smell everything :-) (19.6.2016 - Marie J.)

Have you tried one of our perfumes?
Let us know
how you like it!
You might also like