Royal Diwan Love in Dubai Oriental Women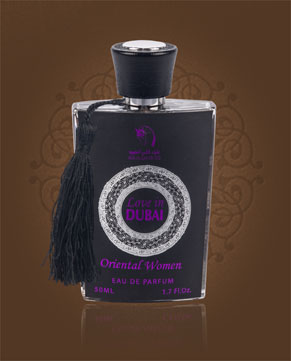 Royal Diwan Love in Dubai Oriental Women
Eau de Parfum 50 ml
Out Of Stock
Eau de Parfum Sample 1 ml
Out Of Stock
Notify me when available?
Description
A magical oriental fragrance, with its initial tones, brings you vanilla blended with flowers and a touch of liquorice.
The vanilla pod is almost dusty, vanilla echoes are dry and beautifully spread with patchouli and touches of jasmine. The untamed freshness of citrus is gently covered with coconut and softly spun sandalwood. The whole thing suddenly sinks into the honey bath, from which peeks sprinkled with cloves and fragrant musk sensuality. Strongly captivating incense waves take even the bitter-leather scent of labdana and velvety warm opoponax.
This perfume conceals the vanilla passion - untamed and alluring, so easy to succumb to.

Customer Reviews (2)
Love in Dubai The Oriental Woman edp represents a love of sinful, wild, wild and passionate who knows no boundaries that breaks conventions. The scent itself is literally free to combine ingredients. The striking narcotic sweet styrax burning in the censer instantly engulfs and overwhelms all the senses. Sandalwood adds light woodiness, vanilla and caramel tint. At certain stages, Shalimar is reminiscent of pure perfume thanks to vanilla, smoke incense and bergamot. Fuming styrax with incense - dangerously beautiful combination with excellent durability. (08/07/2014 - Simona J.)

Oriental Women - rich fragrance, beautiful, velvety wood, spicy opoponax and thick whipped vanilla, sweeter, tinged with a little smoke. Dark and deep. Elegant and very feminine. Femme fatale. Both scents decent projection and I think there will be good stamina. The fact that I only try from the samples ... I think that the injection will be even better ... And both of them know Arabic origin! (5/31/2014 - Renée H.)

Have you tried one of our perfumes?
Let us know
how you like it!
Notify me when available?
You might also like