Louis Cardin White Gold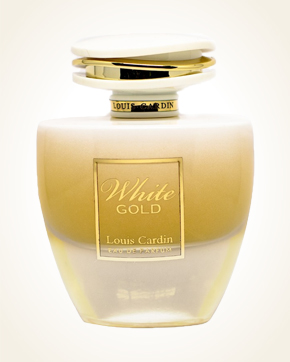 Louis Cardin White Gold
Eau de Parfum 100 ml
In Stock
Eau de Parfum Sample 1 ml
In Stock
Description
The lavishly folded floral composition is vibrated by the seductively gentle jasmine and the nobly intoxicating beauty of tuberose with several fruity undertones.
Ice-fragile lilies of the valley, with a pleasantly sweet lily fragrance, enriched with delicious echoes of vanilla foam, enter the floral gillers.
The flower concert continues with an aria of honey sweet, belonging to a cascade of freesia colors, accompanied by a creamy caress of ylang - ylang and behind the curtain hidden chords of precious woods.
The floral play of charm will be complemented by a few soap-like earthy touches of woody patchouli and musk tenderness will be presented in the final solo.

Customer Reviews (2)
Excellent fragrance that made me very happy! Very feminine and noble, gentle and elegant, with a touch of refined seduction and frivolity. The silky and smooth tones of white flowers breathe on you with their purity and wonderful intoxication, phthesia and lily of the valley to give it lightness and fresh airiness, sweet ylang and vanilla then pleasantly caress the soul, all enhanced by the sensual scent of musk with light undertones of exotic woods. Beautiful Arabian in a modern concept, with a pleasant intensity and really long lasting. Just apply in the morning and you still smell gently flower and powder at night. I definitely recommend to all self-confident women who can value themselves and have a slightly romantic soul. A fragrance that underlines our natural feminine beauty and grace. (10/23/2019 - Lucka B.)

Hello to Anabis - with the passage of time I want to write about the beautiful scent of White gold. It is pleasantly floral, woody. Much goes into space and has a great stamina, both on the skin and on the clothes - up to the wash, as well as all the luxury fragrances from Anabis. With its consistency and evil, I would compare it to EdP Junoon. If you like exceptional scents, do not hesitate. It is worth sin. I'm not a good "writer" like some women I admire for it, but I wrote the quickest. (2/19/2019 - Zdena B.)

Have you tried one of our perfumes?
Let us know
how you like it!
You might also like