Louis Cardin Vibrant Blanc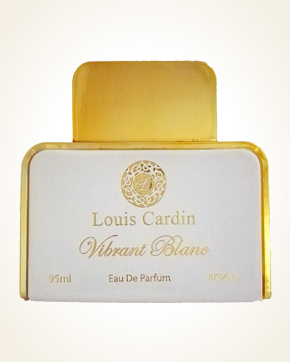 Louis Cardin Vibrant Blanc
Eau de Parfum 95 ml
Out Of Stock
Eau de Parfum Sample 1 ml
In Stock
Description
The elegant design of Vibrant bottles, of which Blanc conceals a feminine fragrance and Noir is designed for men. White and black, like day and night, like man and woman, smells that attract each other, smells that complement each other.
The aroma opens with floral citrus seduction. In their affectionate language, they speak to us with cool-sounding lilies, fragrant peonies with orange blossoms, sweet mimosa and white freesia. Blending flowers with bergamot, dark purple plums and tenderly subtle nuances of the fresh juiciness of the pear gives the aroma a sort of playfully playful touch.
The subtle acidity of the pomegranates is refined and smoothed with a water spray with spicy notes in white pepper.
The woods appear only with a slight hint of warming, rare pink wood in a duo with a sparkling, sweet and sour cranberry, whose freshness envelops a cloud of musk.

Customer Reviews (3)
A wonderful, fresh fragrance for the summer! Very durable, intense but not stifling. I have a fondness for him, because it smells like a yellow shampoo with a duck on a Bambi bottle, which my mother was washing my hair with when I was little. Lulu Castagnette - Lulu Forever smells the same. (13.1.2019 - Marta, Poland)

Hello to Anabis .... so I ordered Vibrant Blanc :-) first scent ... I thought that yes, it is nice, but not so special, as I used to Arabek. But yeah ... the next day I just fell in love. :-D really great, holder, fresh, fruity, just yummy. Rather summer, but I will use it in winter. A smell of European type, but a great holder. Very pleasant. How do I do it when I smell all the perfumes I have at home .... and some of me running out ... I do not know which to order soon :-) thank you and have a nice day. (Nov 8, 2017 - Katka M.)

Vibrant blanc-this is a wonderful smell.It is exactly the same as in the description.This stamina both on the skin and on the clothes is great.It is different from the first fragrance in the white bottle.For me it is a complete gem from L.Cardina. (26/09/2017 - Zdena B.)

Have you tried one of our perfumes?
Let us know
how you like it!
You might also like