Louis Cardin Gold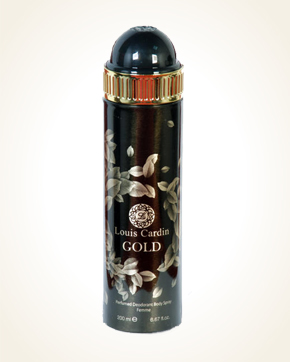 Louis Cardin Gold
Deo Spray 200 ml
In Stock
Description
One of the most popular fragrances, the fragrance of 2015, now also as Body Deo Spray.
Orange caress with warm, spicy spices, headed by vanilla, saffron and cloves, will attack your nostrils with the first drops of perfume. The sandalwood with a lightly set rose appears seductively.
Roses and orange blend together to create a pleasant connection, to which woody tones are added, and the perfume enters an elegantly powdered and softly sensual finish.

Customer Reviews (2)
Hello, thank you for the previous delivery, Louis Cardin Gold spray surprised me pleasantly. I'm a lot over deo sprays. Thank you and have a nice day. (29/12/2017 - Jitka A.)

I took the second pack after trying Louis Cardin Gold for the first time in the cpo when I took the rest of the EDP + Body Spray kit. And a body spray because its consistency is totally acrid, no artificial like in Europe, but a smooth and very pleasant consistency for the skin. How does Louis Cardin Gold smell? Wonderfully, its typically Arabic ingredients - rose, sandalwood, saffron, make sure that the aroma smells both non-Arabic and Arabic at the same time. The result is a round, smooth, wood-powdery fragrance with a prolonged endurance and going into space. Men and women of all ages also like the scent. (16/06/2017 - Sylva F.)

Have you tried one of our perfumes?
Let us know
how you like it!
You might also like