Louis Cardin Cherry Blossom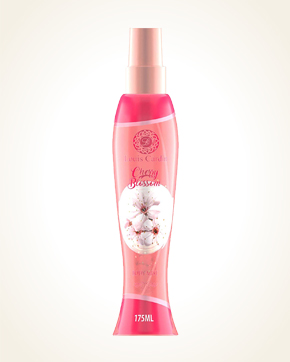 Louis Cardin Cherry Blossom
Body Mist 175 ml
In Stock
Body Mist Sample 1 ml
In Stock
Description
A playful delicacy seduces the dangling gourmet-sounding vanilla flowing through the entire fragrance.
The gourmet sweet, mysterious trail covered with forest fruit resembles vanilla, especially the small wild strawberries with raspberries.
Adding cherry, it shows its tenderly delicate flowers and sweetly juicy fruits, re-sinking in the arms of creamy vanilla.
Body spots will envelop you with drops of fragrance light as a veil.

Customer Reviews (3)
Thank you for the package full of fragrance. I was curious about the Louis Cardin Cherry Blossom body mist. At the beginning, the smell was quite strong, sweet, but later I was happy with the soft, floral-fruity pleasant smell. A wonderful fragrance for summer days. (31/08/2023 - Anna K.)

Louis Cardin Cherry Blossom - body mist But this is a summer appetizer. Gentle, sweet, fruity-floral mist envelops the skin and you feel like you're on a cloud. The unobtrusive scent of summer spreads around you. (18/07/2021 - Rena K.)

Hello, thank you for the fragrant package - as always delivered very quickly :-) Body mists from Cardino are just wonderful - for Valentine's Day I got the vanilla rose with my order and now I succumbed to the newsletter and I do not regret it. Cherry blossoms, it is "juice" sweet, hmmmmm - delicacy :-D I already order another, because even the stamina is wonderful. Thank you also for gifts, nice summer wishes (22.7.2019 - Majka R.)

Have you tried one of our perfumes?
Let us know
how you like it!
You might also like