Louis Cardin Lightning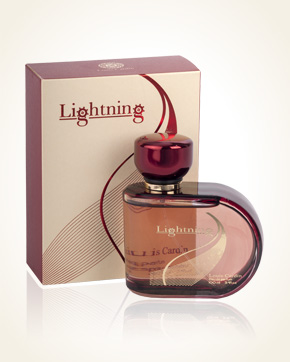 Louis Cardin Lightning
Eau de Parfum 100 ml
In Stock
Eau de Parfum Sample 1 ml
In Stock
Description
The floral fruity, slightly vanilla Lightning by Louis Cardin is for women.
The gentle gentle caress of the floral tones, headed by peony, fluffy May roses and delicious orange flowers, spreads out into fruit waves.
Gourmet cherries and raspberries are irresistibly wrapped in the freshness of a green apple. A cool iris warmed by vanilla and a sensual trace of white musk are added to complete this delicate, clear scent.
.

Customer Reviews (5)
Lightning - just beauty, beauty :-), I was afraid of the powder smell, but this one is beautifully soft and fresh. (22/08/2019 - Marie Š.)

Perfumes LOUIS CARDIN LIGHTNING is the first fragrance thanks to which I learned about this perfumery. He enchanted me to the point that I fell in love! It is typically in my style, delicate, yet intense, floral and feminine. Cherry blossom stole my heart! (27.1.2019 - Marta, Poland)

Hello Leni, I wish you a successful meeting and a lot of interesting scents. / And the smell of Ligtning is amazing and it smelled so beautiful that my rheumatology nurse couldn't take my blood from my back! The smell is really wonderful summer / Mainly well-being for the whole stay (7.6.2016 - Iva R.)

This perfume is really a flash that lights the day with its intense flower-fruity glow. As under the reflector appears fragile richly fluffy peony supported by dewy rose. Under the intoxicating veil of white-pink flowers are hidden sweetly juicy pieces of fruit and a lush green apple whose sparkling gusts dampen sweetness and let it slip gently with soft vanilla in a cuddly musk embrace. Lightning is very feminine, beautifully tufted flower with beautifully incorporated peony. Those who like her will come into their own. Overall, Lightning is accepted in my neighborhood as a very pleasing fragrance with excellent stamina and few would have guessed it on Arabica. (2/25/2015 - Andrea Ž.)

LIGHTNING - beautiful perfume first there are a lot of smell flowers mainly peony then gently passes into fruity tones and eventually smell vanilla, but beautifully gently. (Oct 18, 2014 - Veronika H.)

Have you tried one of our perfumes?
Let us know
how you like it!
You might also like