Anabis Leyla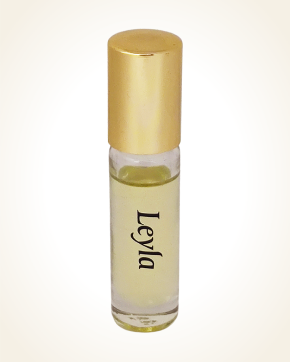 Anabis Leyla
Concentrated Perfume Oil 5 ml
Out Of Stock
Concentrated Perfume Oil Sample 0.5 ml
In Stock
Notify me when available?
Description
Sweetly sensual, intoxicating - this is Leyla.
The charming vanilla lures to its gourmet embraces and opens the way for a cool-sounding iris that warms up with its velvety and seduction. Leyla is literally a vanilla concert.
There are chords of sensually winding fruit and a few lazy stretches of honey. Apricot-peach melange with drops of delicate honey, sinfully bound and its heat makes it apparent the irresistible tone of perfume, with elegantly gourmet vanilla.
Let them melt directly into the gorgeous gill of deep-sounding vanilla that both seduces and caresses at the same time.

Customer Reviews (26)
Hello. Thank you for your answer and I can't wait to see my favorite oils - Leyla is just AWESOME! I will definitely order more than once! I became addicted to this smell ... Best wishes (06/22/2021 - Iwona, Poland)

Leyla… perennial of the "Anabis" sky and my shelves. I've already written about it, but I'm still coming back to it, because edp was added to the oil. Leyla reaps well-deserved applause for perfectly balanced proportions of sweetness and freshness. Nevertheless, both forms on my skin look a little different: the oil looks like a warm musky vanilla scent refreshed with a drop of bergamot, a delicate scent of orchids and a bit of very ripe peach. In perfume water, fruit stands out (peaches are successfully seconded by apricot) and, surprisingly, wood from the base (I mainly plant on cedar). Vanilla, musk and flowers are of course also reported, but only to the extent that Leyla does not look like a simple "fruit". All in all, when I'm hungry for something sweeter, I reach for oil, and when I crave something juicier, a few splashes of edp do it. Both "made by Leyla". (14/03/2021 - Petra P.)

Hello, today I received the eagerly awaited package of Leyla perfumed oil, but beautiful, I've been smelling for hours, everyone in the store turned around, I think, just because of her, just a fairy tale! In addition, the Anabis Musc sample that you sent me is also a cup of my tea, I also order it immediately for my daughter, I would like to order samples of all the scents ... Thank you very much, the world is a little sweeter thanks to you. (07/09/2020 - Nada B.)

Long time ago I ordered Leyla from Anabis, for me it is very sweet and sticky, I do not need it. (05/09/2019 - Marie K.)

I tried perfume oil LEYLA, and I do not regret it. At first I was worried if I could "manage" the sweet vanilla, but I was pleasantly surprised :-) My daughter "secretly" walked on it, so I can save the next smell :-)… .healthy (27.8.2019 -Karla H. )

Leyla had long discouraged her reputation as a honeycomb. My ego experienced perfume sniffers whispered to me that the massive fragrances belong to timid beginners :-) But then the sample in the basket landed as a gift to order and the curiosity prevailed. Just because I love vanilla, in my food and smells. Well, I had to admit that she basked in the limelight deservedly, this fragrance is special so that it looks a bit mysterious and at the same time as a nice girl next door. Thanks to Leyle, I got a taste for trying other "vanilla": Soft is just a mummy, I can smell it, but I don't want to smell it, my smell is too sweet for my taste; Tania is a really pure vanilla pod, as someone wrote, from the fragrances I tried to sound most natural, but I have a similar problem to Soft - it's too edible and I don't want to smell like a food ingredient; Golden Dust and Golden Sand I would wear, despite slightly different compositions on my skin sound practically the same (fruit-vanilla). I added caramel to vanilla and drank on Arabisk Oud's Golden Sand (which seemed to me like Tanya caramel. My sweets are starting to rub my teeth, so - to sum up and underline - Miss Vanilla this time becomes - LEYLA! (13.8.2019 - Petra P.)

Hello, I want to ask if there is no perfume oil ANABIS LEYLA in a larger package, smells very beautiful and would fit me bigger ... :-) (19/04/2019 - Petra O.)

Hello Lenko and Jano, thank you very much for the nice message that came with the order :) Leyla fragrant oil smells wonderful, you hit my taste :), I like sweetly spicy scents, this is very pleasant. Thanks and I wish you a nice rest of the day (15.1.2019 - Martina Š.)

Hello, Mrs. Lenko and Mrs. Jano, I accidentally discovered your site on FB in November and I ordered Anabis Leyla perfume based on reviews of enthusiastic customers and Pheromone Perfumes Attitude Homme perfume for my husband on Christmas occasion. The order came with lightning speed, fine and with a nice personal letter and gifts for which I thank a lot. Since you have a lot of satisfied customers among whom I join, I really appreciate your handwritten signature. But I made a major mistake, showing the daughter (16) perfumes, which she evaluated very positively and with a pleading look in my eyes Anabis Leyla mercilessly confiscated. Well, you have a big choice why I wouldn't order again. Thank you very much again and I look forward to the next order. (12/25/2018 - Jana K.)

Hello Mr. Lenko and Mr. Jano :-) and thank you very much for perfumes and fragrant gifts ... you are so kind and attentive to our customers ... :-) Leyla - so I really have no words ... just a twin soft .. just more into the flowers .. and sweeter fruits ... just magicaláá .... just keep me perfume with your perfumes ... these are fabulous treasures ... I hope I wear Leyl on my wrist, Soft on the other, on the neck of Elmas :-D .... they all go together beautifully and they please me .... but next time, now I will give them like gifts under the tree .. :-) (16/12/2018 - Romana V.)

Leyla I can not describe it but the nearest will be on the list :-D Miracle beautiful fresh, choco MUSK it's mummy, Ibi I would assign more to men's or unisex but also beautiful fragrance, men audacite very much liked my husband, super I'm happy ... thanks (14/12/2018 - Iveta F.)

The second delicacy for me is Leyla, and since I have a period when vanilla perfumes with whatever "flavor" I can in the morning, noon and evening in all ways, this is for me to hit and more in the collection. A little combination for beginners with Arabs and lovers of sweet but unpeeled fragrances. Najm Gold, because you definitely deserve attention, Najm Gold is currently on my top spot and next time I definitely have to order a sample of Ewaan, because according to the composition will be another hit and my next target. it is that one can only have one body :-D :-D :-D Beautiful day Jani and Lenko and thanks (May 5, 2018 - Iveta W.)

Hello, thank you very much for the fragrance package and for an extra gift .... by the way the perfume LEYLA is really amazing :-) Have a nice, health (May 31, 2017 - Karla H.)

Greetings to Anabis! Thank you for very fast order processing, gifts and nice approach! Leyla was very appealing to me, she's amazing! Velvet gourmet vanilla with iris and caramel! As a refill for a pinwheel, but deeper and long lasting, a wonderful smooth warm perfect! Unfortunately, the next day I fell on the pavement and surprisingly bottle was glass, flew across the dining room! I wanted to cry! Oh no! However, the whole house smells us! That's my experience with this stunning Leyla! Sandra is purple caramel again! It smells beautiful, but it doesn't have Leyl ... Dehn Al-oud is wood, rather wood-resin composition, dry uncomplicated, I'd say it's more prominent on men. Deena, the formula, is a beautiful rich oriental fragrance! So far I have only tried in flight, I still have to nafat to write more ... I will keep the rest of my order to the next mail, because the gift is still waiting to be unpacked! And everything cannot be evaluated at once, it takes time. The smell develops, it is impossible to make it in a day! Anyway, thank you for Leyla, which I don't have, but I still feel it! And I'm glad to find you! All my previous perfumes lie tucked in the back of the closet and I'm afraid I won't pull them out anymore! Actually I don't want them anymore because yours are a completely different level! Sincerely, (27.5.2017 - Darina J.)

Leyla: From the workshop of a confectioner My first impression was surprising: Iris Ganache from Guerlain. Yes, the gourmet fragrance full of vanilla, chocolate and iris root, which we are seeing a lot of… But the iris disappeared quite quickly and Leyla began to resemble rather sweet specialties in the Farmacia SS Annunziata style. The impression of chocolate remained, but they added apricots with peaches in such a quantity that they prevailed and conjured up a first-rate fruit ice cream enhanced with genuine Bourbon vanilla. (24.5.2017 - Katka - Breakfast in Perfumery)

Leyla - I never liked vanilla perfumes, but thanks to you I found out that there are those I can fall in love with! I would drink Leyla if I could and bathe in it, etc ... :-) Golden Sand is very similar, but it does not have Leyla. Even though it is very intense, I smell the whole neck and both wrists and my husband tells me that it smells around me 3 meters around me and it is just as low and my head never hurts like other strong scents. Such a beautiful sweet powdered vanilla! I will buy it regularly. Thank you very much for her! (4/29/2017 - Žaneta B.)

LEYLA-total bomb, this perfume you really did, beautiful vanilla, as you can imagine, nothing sweet ..... breathtaking .... (2.3.2017 - Veronika H.)

Greetings to Leni and Jani, yesterday I unpacked the package and I was very curious how smelling vanilla Leyla ??? Beautiful - I did not disappoint again. I tried it immediately and watched the reactions of the surroundings. It was nice to see how it had an extraordinary effect on the surroundings. I could not stand and immediately peeked on the website, whether you have it in a larger package. Too bad it is not, but so I will have it in several handbags :) small. Thank you for a truly extraordinary approach to us - our clients. I did not order for the first time and it is always helpful, nice and personal. Nowadays almost unprecedented ..... and the sweet dot at the end .... yummy for son :). (Feb 24, 2017 - Alena V.)

Today I was picking up the package, I was curious about Leyla, but she did not disappoint because I love vanilla fragrances, Leyla is beautifully vanilla, reminds me of Golden Sand, she is amazing, she has only one mistake, she is little, so I will watch her like an eye in the head, but just a little wipe your wrist and it is painted across the living room and the whole bedroom ... :) that's the smell, hmmmm ... as my son said, mom and now you can put them all in one case Leyla also came to me) ... which of course I do, because every day I want to smell different ... thank you for importing such beautiful scents, now I go to exercise, everyone is amazed, because I smell different every day ... once they are trdelníky, again flowers and third time vanilla ... :-)) have a nice, scented day (14.2.2017 - Jana C.)

Hello, thank you for the fragrant package that arrived today. Wow ... I have to join a crowd of enthusiastic customers - that Leyla really did! Actually, I originally did not want to order it, I have a few vanilla scents and I am extremely satisfied with them, so I did not intend to expand their range. Actually, I originally didn't want to order anything :-) For the fact that now I cannot tear my nose off my wrist with Leyla, Scentanium may actually be in action. It's freezing outside and I'm enjoying the cuddly warm vanilla cloud that casts Leyla around me. Placed to the order rather just out of curiosity, on the basis of enthusiastic responses, what I read on her site, and actually so that the order overstepped the Valentine's gift :-). And I'm glad I put it in that basket, the smell is beautiful and quite different from the other vanilla I've got. And now she's perfect. Best regards from North Bohemia (13.2.2017 - Lucie K.)

LEYLA - absolutely magical vanilla dream. I absolutely do not blame the enthusiastic responses of all clients. There is a resemblance to Golden Sand and Benz Al Ez Nabah, but Leyla is more vanilla, more straightforward, yet gently cuddly. I put Elmas on the back of my hand, Leyl on the wrist of the same hand, and as I keep sniffing, both scents mix and unite like lovers' bodies. It is very beautiful to see them at the same time ... my olfactory cells now crave for the sweet intoxication that has been conveyed to me by the combination of Leyla and Elmas. (Feb 8, 2017 - Lenka S.)

Hello Lenka, today I tested vanilla Leyla, it is beautiful, I like vanilla very much and reminds me a lot of Tareek and also Solid. So far, Leyla and Bern have been the most appealing to me of your scents. Bye! (07/02/2017 - Vladka P.)

Dear Mrs. Lenko, good evening, oh Leyla .... well, read it ;-) Leyla, only those files made me want to at least try it and when the sample landed today, I knew I was lost. My nose of loving vanilla and fruity fragrances got a treasure truly magnificent because Leyla is such a 2in1. A perfect, dangerously captivating combination with incredible stamina. The sensual ride begins with an alluring gourmet vanilla and a small deja vu that smell reminds me of. Solid and Rooh Dubai, the vanilla pearls of the Orient, is in mind. But to the vanilla delicacy is added a velvety, juicy, sun-warmed, honey-peach that puffs up the vanilla and grinds in a fluffy cloud. bursts of irises. Warm intoxicating tones blend seamlessly into an irresistible, unique harmonious whole with a vibrant business card: a faded fragrance made in LW / Anabis. Necessary fragrance for me. (1/31/2017 - Andrea Ž.)

Dear Leni and Jani, teeeeed today I literally experienced a shock in a pleasant way :-) You are amazing. Such an approach to the customer is not really seen today. Today I tried Leyla and Elmas. I know Leyla here, but I don't know where. It is beautiful, and I bet :-) and Elmas beautiful fluffy musk, I like the combination of both. They're beautiful, tender, yummy. Right now my gloomy day is wonderful and fragrant. THANK YOU, THANK YOU, THANK YOU !!!!! Nice days. (1/31/2017 - Lenka G.)

Have a nice day, I ordered your news Leyla and I'm blown away - beauty, strength, stamina ... Vanilla is really unreal and in conjunction with fruit and honey it is a gem ... I look forward to using it for the ball ... Have a nice weekend (1/28/2017 - Eva Š.)

Good afternoon to Anabis, thank you for express delivery. She and I are already wearing her, Leyla is so smoothly sticky vanilla that you want to "bite" it into your hand. And the bottle is also very nice to hand ... :-) A bit reminiscent of Golden Sand, but Leyla is more vanilla, or I would compare it to Hadharah, it was also a moooc hilarious vanilla. Here, vanilla is mixed with some fruit, I can't recognize it, and I think I feel musk - even if it's not in the description. And stamina is excellent. I just got knocked out by the ball sometime in the morning, still from work, and now it's still very nice to feel. Thank you for the presents, I will try and definitely order again. Nice weekend! (1/27/2017 - Jarka P.)

Have you tried one of our perfumes?
Let us know
how you like it!
Notify me when available?
You might also like