Lattafa Rouat Al Musk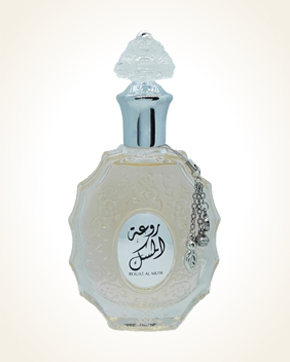 Lattafa Rouat Al Musk
Eau de Parfum 100 ml
In Stock
Eau de Parfum Sample 1 ml
In Stock
Description
Sparkling, fruity floral score opens the game with juicy citruses, dominated by sweet tangerine in a harmonious aria with delicate tender orange flowers.
More soft flowers enter the scene, combining elegant tones of white jasmine and creamy ylang - ylang in pleasant harmony with sandalwood.
The warming into the fruit chords will sound with honey velvety touches of ambergris and deliciously laid, smoothly cuddly, vanilla pods.

Customer Reviews (7)
Thank you for the very quick handling and sending of the package. Lattafa Rouat Al Musk... that's a blast. A wonderful fragrance. Fresh, charming. This is so beautiful that I have no words. I am very pleasantly surprised and I did well to buy two 100ml packages. And the bottle is a jewel, beautiful, high quality. (15/10/2023 - Daniela S.)

I bought Lattafa Rouat al musk for the first time at the airport, the second one is here. The smell is beautiful, it lingers on my body exceptionally and it is hard, it hovers around. Thank you for the samples from which you can also choose something, it's hard to decide. Instant delivery from you. Thanks, best regards (02/12/2021 - Anna, Poland)

Lattafa Rouat Al Musk, I bought a big and last pack, shame I hope it will be available again, it is incredible splendor, I fell in love with this fragrance, everywhere I get only praise from both women and men, certainly I will buy when more packages. Beautiful perfume bottle and wonderful smell. (3/13/2020 - Marie Š.)

Lattafa Rouat Al Musk, wonderful fragrance intense yet gentle fresh beauty :-) I ordered a sample and buy a large package. (21/02/2020 - Marie S.)

The second fragrance perfume water Lattafa Rouat Al Musk is great. It is intense, energetic full of spontaneity and good mood. Thank you very much for presents, letter and nice wishes. I look forward to them. I am grateful that we women from Slovakia can also enjoy these fragrant treasures. This order was certainly not the last one. Soon I will order other oriental jewelry. I'm looking forward to it. Once again, thank you very much for living and fulfilling dreams ... (2/10/2019 - Lea M.)

Another sample surprised me, I really like the smell and sat down.It is interesting, very nice, makes me contemplate and evokes a pleasant feeling. (5/19/2019 - Monika S.)

Lattafa Rouat Al Musk..My second Christmas test, not only luxury flacon with tender pendants, but also luxury perfume for a very decent price.Introduction clearly belongs to fresh citrus, which slowly fades and everything turns into a soft note sweeter tangerines and orange flowers with a pinch of vanilla Although in the description is not, I feel even oudík, which all the time pleasantly cools the entire composition, overall I would compare this perfume to Oud white, only with the fact that it is a level ,, sweeter "thanks to ylang component.For me great satisfaction, nothing elusive, nothing heavy, smell suitable for any season and position (28.12.2018 - Irena Č.)

Have you tried one of our perfumes?
Let us know
how you like it!
You might also like