Lattafa Qaa'ed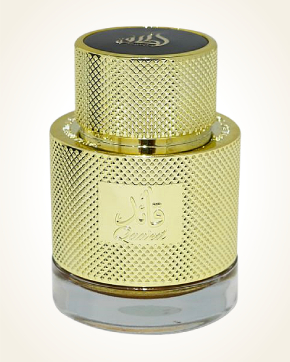 Lattafa Qaa'ed
Eau de Parfum 100 ml
In Stock
Eau de Parfum Sample 1 ml
In Stock
Description
Warmly oriental, sensually seductive is the scent of Qaa'ed, in a golden shimmering bottle, hidden in a leather, cylindrical package, with engraving, which is padded inside with a soft velvet bed.
As the luxury bottle and the whole package show, you are presented with a beautiful perfume with uniquely folded ingredients, which is dominated by majestic amber blending into all phases of this interesting scent.
Introduction - this is a marketplace of oriental spices, where every corner exudes an otherwise spicy haze. Cinnamon sweetly attracting a mysterious cardamom, into which the touches of the honey heat of amber dissolve, chased by the intimate scent of saffron with its leathery note, with the help of a citrus echo, led by a bitter bergamot.
Softly smooth woody plants enter the spicy line, especially cedar and round sandalwood, which harmonize with oud essential oil, which shows its depth and mysterious beauty.
The vanilla solo fully resounds its gourmet chord, into which floral tones penetrate, with a nostalgic memory, which with its touch ignites a fragile carnation flower with a final dot in the form of smooth skin.

Customer Reviews (2)
Guys, The perfume is absolutely amazing! Just received it. Thank you very much. I will buy again in the future. Regards (06.09.2022 - Filip, Greece)

Lattafa Qaa'ed. I got acquainted with this perfume in the form of a 1ml thank you gift for another purchase. I was immediately interested in it and I ordered the original packaging. The scent is typically men's, spicy, pleasant. The best is a very nice price. Suitable for virtually all activities. (26/11/2021 - Tomas B.)

Have you tried one of our perfumes?
Let us know
how you like it!
You might also like