Lattafa Pure Musk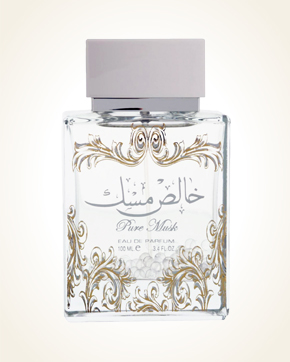 Lattafa Pure Musk
Eau de Parfum 100 ml
In Stock
Eau de Parfum Sample 1 ml
In Stock
Description
The gentle playfulness of musk tones attracts to its nooks several touches associated with the majestic rose, the fragility of violets and the echo of the velvet-embedded heat-radiating ambergris.
In the bottle there are floating transparent balls, which evoke a feeling of purity and lightness, which will accompany you throughout the good duration of fragrance. The musk is charming with its fading sparkle, it is also seductively inviting and at the same time reveals the soft intoxication.
A nice bonus is a gift - enclosed Deodorant 50 ml, stored inside each box.

Customer Reviews (15)
Hello, thank you for the wish and the fragrant gift. Lattafa Pure Musk is a pleasant, unobtrusive fragrance. It has great staying power, I could feel my wrists (and my clothes) gently throughout the day without having to re-scent myself. (18/10/2023 - Anna K.)

Hello, I would like to sincerely thank you for your work and the wonderful offer. Before Christmas, I noticed that my colleague uses a wonderful scent. I was disappointed when she said that her husband had brought her all the way from the Orient. Nevertheless, I searched and found on your website - Lattafa PURE MUSK. Then I was completely grounded by the speed of delivery, packaging, beautiful box and extra gifts. I still managed to give my daughter a Christmas present. Then the advice finally came to me and everything happened again. I'm sorry to open the box... And the ZAMORA sample arrived too, I'm looking forward to it :-) I wish you all the best and thanks again! (17/03/2023 - Alexandra B.)

Dear Ladies, I am ordering Lataffa Pure Musk again and I think it will stay with me forever :) Thank you and best regards! (11/10/2022 - Paula, Poland)

Hello in Anabis, thank you for the prompt delivery and for the extras from Mrs. Hana. The scent is really beautiful, I mean Lattfa Pure Musk. Because it's a muskrat, I feel it all around me. Have a nice day. (18.05.2022 - Jarmila S.)

LATTAFA PURE MUSK is the embodiment of purity and tenderness, which is dominated by blooming violets, one of my favorite spring flowers :-) It is a scent that does not develop and is the same from start to finish, which is only good in her case. I can't get enough of the delicate elegance that evokes the feeling of freshly washed laundry dried on a spring meadow :-) (12.01.2022 - Hanka P.)

Hello, thank you for a nice wish and gifts, perfumes came fine. Wonderful scents and Lattafa Pure Musk even smaller bottle in my purse got me :-D. I wish you a relaxing holiday. (01/12/2021 - Pavla K.)

Hello - I'm happy to see you! :-D The smell is amazing, I know it from Deodorant, which I tried to order in September. And now the package came to work. The balls inside the bottle, well, that's cute ... and the smell is like a puff of tenderness ... oh how beautiful. And I was waiting to see what was inside the box, and I had a small, very sweet bottle of perfume in my purse. Thank you :-D (10.11.2021 - Milena K.)

Lattafa Pure Musk, this scent doesn't suit my unisex scent at all. I can smell too much powder from this scent, and after a while my head aches from the scent. (10/9/2020 - Marie Š.)

Musk (also known as musk) fragrances are my favorite and Lattafa Pure Musk is no exception. Beautifully clean, fresh, feminine fragrance. It evokes a feeling of purity, femininity, sensuality in me. There are some flowers in the background - I do not have enough imagination and I do not know which :) The smell is very pleasant, long lasting. I do not recall any similar smell, and I have tried enough smell. Beautiful fragrance of purity. (06/09/2019 - Pavla F.)

Beautiful and fragrant morning I wish. I would like to compliment the fragrance: LATTAFA PURE MUSK.It is wonderfully delicate such interesting, can not be compared to any delicate fragrances I used.It is just wonderfully pure and seductive at the same time. (04/09/2019 - Aja J.)

This fragrance reminds me of Nerval-Moschus oils. When I smelled this beauty today, I cried for the little one. I remembered my mother's scent when I was little. It is a wonderful scent. (6/13/2019 - Lucie Š.)

A sample of fragrances came to me. Without perfumes I can't imagine a day, and this fragrance is amazing, fine powdered cream but splendor. (5/19/2019 - Monika S.)

Another sample surprised me, I like the smell very much and sit down. It is interesting, very nice makes me contemplate and evokes a pleasant feeling. Thank you for it and I will certainly acquire this fragrance in the bottle that is beautiful. (5/17/2019 - Monika S.)

Hello! Yesterday I received another musk in my collection. Pure Musk - the bottle is playful, the glass balls float in the liquid (I have had one before) - it's nice, playful, summer. Fine glass print is silver and gold, the lid covered with white leather. The content is very clean, delicate, but it also has a certain emphaticity, which is given by flowers and perhaps lemon. There is also a deodorant in the box, which is great for layering fragrance. I can't saturate with the smell of white musk; The Arabian fragrances lead me. There is no such thing in the classic fragrances. Thank you also for the formulas. I also have a good number of them, I give them to my friends and colleagues as inspiration and I try, research and look forward to discovering another favorite again. This is a never-ending story. The fragrant world of Arabian fragrances is wonderful and makes me a happy and contented woman. Thank you in Anabis for bringing them to us. Your (07/05/2019 - Helena B.)

Hello Lenka, thank you for the message and I order now, I hope that Pure Musk Lattafa fragrance will be sold at least some year, otherwise I will probably have to buy it because it is just ideal for me, I am allergic, so while I am they like more fragrances, but they are too strong for me. At the same time, this fragrance smells long and gentle on me and I do not know any such. It's really unique, and when I was using a sample, even two people asked me what a wonderful smell it was. It is not strictly European, but also not a classic Arabian fragrance. Just something in between. Thank you. (01/05/2019 - Eva R.)

Have you tried one of our perfumes?
Let us know
how you like it!
You might also like