Lattafa Pride Musamam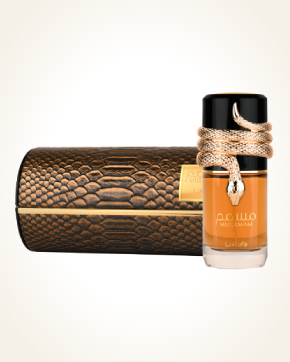 Lattafa Pride Musamam
Eau de Parfum 100 ml
In Stock
Eau de Parfum Sample 1 ml
In Stock
Description
Lattafa Musamam is a perfume story in a flacon with a luxuriously designed golden snake cap, hidden in an exclusive snakeskin cartridge, which opens directly with the energizing scent of rare oud oils woven into the secrets of the Orient.
The freshness of sweetly ripe mandarin is surrounded by cool lavender with touches of saffron uniqueness, with a leathery intimate track, into which the woody accord of oud oil is first heard.
The oud solo is tame, softly woody right from the first note, also thanks to the embrace of honey amber, with a soft-sounding reverberation of the pink background of colorful geraniums.
Another sensual blend of oriental tones, this is the joint play of oud oil with velvety earthy incense, which is the full stop of this unique symphony.

You might also like