Lattafa Maahir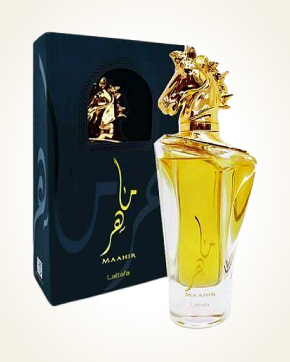 Lattafa Maahir
Eau de Parfum 100 ml
Out Of Stock
Eau de Parfum Sample 1 ml
Out Of Stock
Notify me when available?
Description
Directly into the adventure, the scent of Maahir, hidden in a strangely designed, heavy bottle that adorns the horse's head, is a luxurious scent that will delight all of you who like oriental-tuned, intense perfumes.
Citrus bergamot blending into the softly woody, oud essential oil, resounds the first tones of a sensually folded pyramid that will take you to the Orient. Enter, and be enchanted by another fleeting fruit, showing a creamy peach and slightly bitter cranberries, letting in a velvety smooth sandalwood.
We gradually move from woody plants to a floral nook, which is dominated by lilies with small jasmine flowers, surrounded by the fragile beauty of peonies.
A fluffy vanilla mousse with a shimmer of fresh musk dissolves into a floral embrace, covering the oud essential oil with a clumsy captivating charm.

Notify me when available?
You might also like