Lattafa Khamrah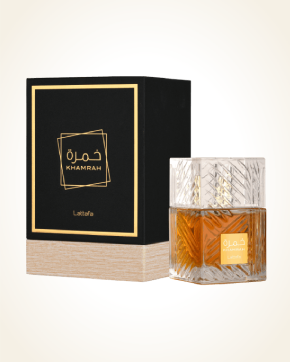 Lattafa Khamrah
Eau de Parfum 100 ml
In Stock
Eau de Parfum Sample 1 ml
In Stock
Description
The luxurious design of the Khamrah flacon, depicting a crystal cube, seated in a velvet bed with a mirror reflection on the back wall of the cartridge, opens the sweet gourmand notes that accompany the fragrance throughout the score.
Come in and let yourself be enchanted by the individual ingredients. In the beginning, notes of oriental spices are embraced, dominated by spicy nutmeg and cinnamon, accompanied by a citrus touch of bergamot.
Delicious shades of gourmand dates are added, scented with opulent tuberose. The sinful aria of indulgent chocolate, which is incorporated into delicate pralines, together with the reflections of cool lily, represented by mahogany, ignites the desire for more and more scents.
The final symphony of majestic amber, intermingled with the delicate scent of vanilla, the delicious creaminess of which is supported by the addition of tonka, is a real caress, also thanks to rare woods, the balsamic aromatic note of myrrh and powdery caramel styrax.
Angels' Share Anniversary Edition perfume by Kilian, was the inspiration for the fragrance, Lattafa Khamrah.

You might also like