Lattafa Ana Abiyedh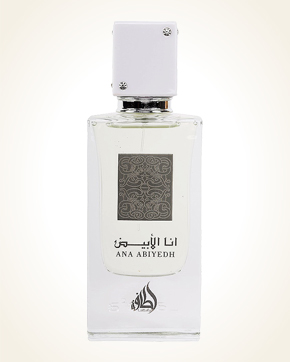 Lattafa Ana Abiyedh
Eau de Parfum 60 ml
In Stock
Eau de Parfum Sample 1 ml
In Stock
Description
A sweet tender tone breathes on you with the first drop of Ana Abiyedh and bears its powder hugs with the whole fragrant composition.
Musk - so much chanted, so much used and so much changing. Intoxicating, fluffy, soft and sensual, he presents all his nuances in this perfume to bind the other ingredients and, in common harmony, to play an elegant symphony that is both untamed and caressing fluff.
Spice enters the scene, which is very pleasantly complemented by musky clouds. Oriental, interwoven, warm-carrying cardamom is complemented by an earthy saffron with undertones of leather-like undertones.
Musk tones will be complemented by the softness of the woods, showing nagarmoth, combining sweetly oriental tones with a floral base, into which creamy whipped and deliciously sounding vanilla is saturated with tones of guajac wood. Oud essential oil in this composition is just a lightweight addition that swings too much airiness into a apart key.

Customer Reviews (3)
LATTAFA ANA ABIYEDH, an absolutely amazing fragrance and yes, there is a slight resemblance with Kirke,, sweet, smoky and at the same time there is something interestingly fresh about it. The smell is very very nice. (19/01/2023 - Kateřina M.)

Beautiful day dear lady. Today I received a package with beautiful scents. I would very much like to commend the Lattafa Ana Abiyedh perfume. At the beginning it is stronger and after a while it starts to be slightly creamy and powdery. Ideal for daily wear. Thank you very much for the kind message. A beautiful day. (15/05/2022 - Andrea J.)

I recently received an Ana Abiyedh formula and immediately remembered a perfume from Titian Terenzi Kirke. How pleasantly surprised. And at an affordable price. (09/16/2021 - Jelena B.)

Have you tried one of our perfumes?
Let us know
how you like it!
You might also like