Lattafa Ana Abiyedh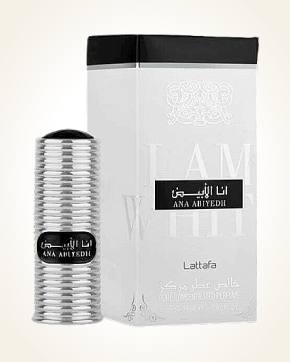 Lattafa Ana Abiyedh
Concentrated Perfume Oil 25 ml
In Stock
Concentrated Perfume Oil Sample 0.5 ml
In Stock
Description
A sweetly gentle note breathes on you with the first drop of Ana Abiyedh and carries its powdery embrace throughout the entire fragrance composition.
Musk — so much praised, so much used and so much changed. Intoxicating, bubbly, soft and sensual, it presents all its nuances to us in this perfume to tie the other ingredients together and play an elegant symphony that is untamed and at the same time caressing with fluffiness.
Spice enters the scene, which very pleasantly complements the musk clouds. Interwoven with the Orient, warmly carried by cardamom, it is complemented by earthy saffron, whose undertones resonate with a leathery undertone.
The musk tones are complemented by the softness of woods, showing nagarmoth, combining sweetly oriental notes with a floral base, into which melts creamy whipped and delicious-sounding vanilla saturated with notes of guaiac wood. Oud essential oil is just a light addition in this composition, which swings the excessive airiness into a separate tone.

You might also like