Naseem Lamsa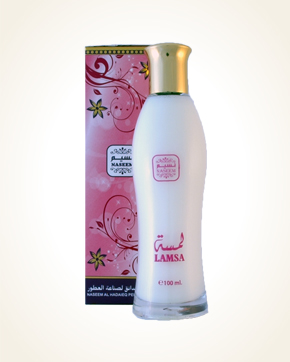 Naseem Lamsa
Water Perfume 100 ml
Out Of Stock
Notify me when available?
Description
Lamsa Water Perfume is a popular fragrance Lamsa, which is alcohol-free and in the form of a spray. Oil dissolved in alcohol-free water leaves a fine scented layer on the skin. It is ideal for hot weather, when your skin not only smells, but gives it hydration for a very long time. Shake thoroughly before application to the body to join the ingredients together. Apply Water Perfume Lamsa to skin or hair, but not to clothing.
The combination of white jasmine flowers and gentle violet gives an enchanting seductive subtlety. The delicate white rose in a unique combination with light peach and apricot tones is a tender chord developing its notes into a rare lemon grass orchid. There will also be a clear scent of peony with a light touch of green apple.
The end of the composition is in a fruity, mandarin orange hug embracing the soft vanilla and the tender sensuality of the musk.

Customer Reviews (3)
Naseem Lamsa Water Perfume .. when this new offer came, I ordered a small PenSpray for the exam (I wrote already on the mini variant), which absolutely captivated me and traveled with me on holiday, then accompanied me a few times in the service and in a short time So now I did not hesitate in the new order and took a larger 100ml package and I'm in my skin again, this unobtrusive sweet little juicy beauty will remain among my favorites! At work I was pleased by an older patient when she said, sister, I already know When you get out of the room in the morning and I smell beautiful there, I know that you are at work ":-) .. thank you Mrs. Lenko, you are not only happy and delighted. (23.8.2016 - Irena Č .)

LAMSA WATER PARFUME-So this perfume is wonderful, such another, beautiful, amazing.After spraying perfume on the body is absolutely bombastic feeling, first refreshes in these warm days and then it is freshness of citrus just feel the peach. It is very delicate beautiful. Again a jewel. (Jul 17, 2015 - Veronika H.)


Have you tried one of our perfumes?
Let us know
how you like it!
Notify me when available?
You might also like