Al Haramain Lamsa Silver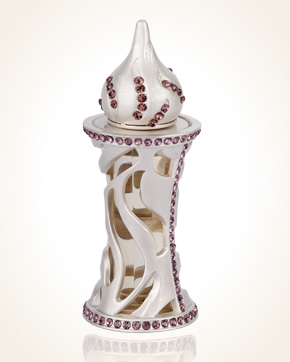 Al Haramain Lamsa Silver
Concentrated Perfume Oil 12 ml
Out Of Stock
Concentrated Perfume Oil Sample 0.5 ml
In Stock
Description
In the silver cover of the duo Lamsa, the fragrance is gently oriental, with a slight trace of trees, fruit and vanilla.
Honey bath prepared for maracuja and juicy apple is tenderly accompanied by barely perceptible touches of oriental spices. Rare woods show their warm scent connected with flowers. A light breeze of cool windiness, imparted by eucalyptus, would slow down the excess sweet trace of vanilla. To his sensual embrace, musk takes a sweet oud oil to create a slightly oriental fragrance.

Customer Reviews (2)
LAMSA SILVER - so it is a bomb, it smells of vanilla, honey, sweet fruit and the bottle is like a gift for an Arab princess. (5/13/2014 - Veronika H.)

Arabic confectionery. Luxury delicacies until the tastes and aromas pass… roasted almonds, fruit in caramel and thick honey liqueur from bitter almonds… thanks to it the aroma is beautifully smooth and does not look sweet. Both fragrances very good, hold well, Silver really excellent. Silver I would have seen as unisex, a man who can gourmet fragrance also comes into its own. (01/05/2014 - Renée H.)

Have you tried one of our perfumes?
Let us know
how you like it!
You might also like