Naseem Laeqa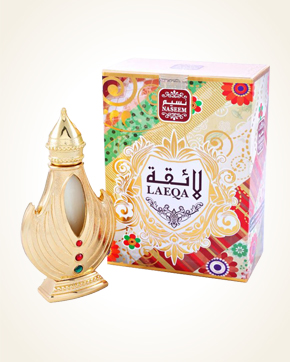 Naseem Laeqa
Concentrated Perfume Oil 12 ml
In Stock
Concentrated Perfume Oil Sample 0.5 ml
In Stock
Description
Fruit lure in conjunction with musk and fresh mint is another of the pleasantly folded fragrances from Naseem.
The beginning is carried on sweet tangerine and juicy pineapple tones. Another fruit lure with blackcurrant is added, combined with the subtle purity of musk musk. Then comes a wave of herbal floral delicacies with a mystical duo of lavender and lemon grass. Vanilla with a beautiful, dusty chord is restrained by a touch of wind - mint.
In the end, there is an extraordinarily seductive tone of lavender with warming from precious trees and a fading pineapple wave.

Customer Reviews (5)
Naseem Laeqa is a strong pineapple citrus scent, which is complemented by lavender and a strong mint gives it a cool touch. By our European standards, it is more of a men's fragrance. (01/18/2022 - Hana P.)

Beautiful aroma, it seems to me as if it contained some aphrodisiac, stamina is respectable, I feel it from my hair the next day. The pineapple is beautiful and intense in it. The fragrance with a large V plus the bottle is really cute. I'll have to buy one more to stock. I am happy to find this store because I am heavily dependent on your vunich, I would not believe how beautiful the fruity fragrances can be, because the European ones I can usually buy in stores I don't like at all are like a lotion and so much artificial, while the Arabian fruity perfume really smells of fruit, for example, Soft, but that's beautiful, the citrus, the beautiful and rich fragrances unlike European citrus fragrances, which resemble a toilet shower, as my husband says. Arabian oil is really incredibly long to smell real fruits, strawberries, citrus, apricots, pineapples and all those beautiful ingredients are so natural that you want to paint your entire body with them, many are even erotically tuned and the fact that they have men great influence .... Elsewhere I do not buy perfumes, this is perfection itself, no one can overcome. Whoever tries these scents is lost forever, maybe some drugs or aphrodisiacs are added to them, I don't know for every fall, it's like an obsession, a desire to have them as much as possible. And one more plus have these fragrances, very, very reasonable prices !!!! Big thanks to Anabis !!!!! You are my best, best, best business. ❤ (6/22/2018 - Helena K.)

Laeqa - Last week I got this fragrance and I'm excited not only me but also me surroundings. It is beautiful, I feel a lot of pineapple and the smell is pleasantly coolant. A little to the mansion. Beautiful. All I hear is praise. (12/06/2016 - Lenka G.)

Laeqa is a wonderful smell, persistent and changes in the course of the day - moment of fruit, moment of trees. Great smell for a great price. (1/21/2015 - Helena H.)

Laega is a nice fruit plant that warms the day warmly. The fragrant brightness begins with a tropical cocktail, headed by pineapple, whose typical aroma unobtrusively stretches as a connecting line through the entire composition. Sparkly tangerine is second to him. The sweetness is tempered by juicy lemon cut with black currant and the whole fruit guard slowly sinks into the arms of a soft musk. At the moment, subtle herbal tones with vanilla appear on the scene to show a captivating show, and Laega slowly and surely begins to settle into a harmonious final form, allure of which is underlined by a lightly guided woody line. (10/10/2014 - Andrea Ž.)

Have you tried one of our perfumes?
Let us know
how you like it!
You might also like