Naseem Kulsum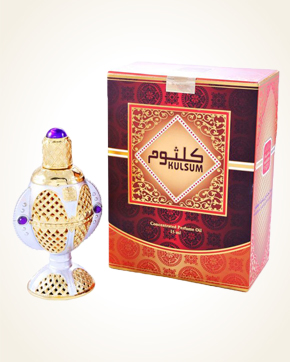 Naseem Kulsum
Concentrated Perfume Oil 15 ml
Out Of Stock
Concentrated Perfume Oil Sample 0.5 ml
Out Of Stock
Notify me when available?
Description
Orientally warm fragrance from Naseem will appeal to its spicy woody note both men and women.
The introduction is made of warm sandalwood, which combines with oud oil and a beautifully expanded Taif rose. Oriental spice swinging on honey waves accompanied by the softness of velvety ambergris plays a game of charm and seduction.
Let yourself be enchanted by the touch of saffron and mysterious incense. There is a remarkably captivating concert of rare resins, which, together with the gentle-sounding juiciness of the orange, make this play rise to silky untamed heights.

Customer Reviews (3)
When I tried Kulsum, I thought of Rawan - the one at Asgharali's cpo, which is no longer Rane in edp, is no longer, because there is no special sandalwood available. But after a while it is different, instead of carnation there is tobacco - at least I can feel it. Santal of Rawan or Raneem is there. Beautiful smell, maybe eventually end up on the shelf, But now I'm pretty "starved" after a longer pause, so I will continue to explore. (20/06/2017 - Sylva F.)

Once again I greet in Anabis, and I would like to correct my assessment of the Kulsum fragrance, which may please the witnesses. During my first rehearsal, I remembered Rawan in the cpo and Qatar al Nada and Rane in the edp from Asgharali. Unfortunately, all three fragrances are a thing of the past because of the lack of special sandalwood. However, after a few minutes, the situation changes considerably, and on the parquet comes up bitter-sweet tobacco instead of carnation, which played the first violin in the above-mentioned fragrances. The mentioned sandalwood holds its position here firmly and the range is again about Rawana with Qatar al Nada, so that the witnesses of this type of sandalwood can remember and perhaps even enjoy. Have a nice day and look forward to the package from you (20.6.2017 - Sylva F.)

Kulsum is not a futile scent at all. The first drop of woody honey-like mixture will shoot us in the direction of orient. Inhale, close your eyes and open 20 minutes after landing. After a striking start, there is no sign and a small shop opens in front of us with all its treasures. A sandalwood bowl filled with dried velvet roses, spicy pyramids, pieces of precious ambergris in a mother-of-pearl inlaid box, fine resin balsams and soaps in glass jars, burning sweet incense. The individual warm tones intertwine to create an alluring tempting atmosphere that is so easy to succumb to. Simply hilarious smell that fits me and my husband. (12.10.2014 - Andrea Ž.)

Have you tried one of our perfumes?
Let us know
how you like it!
Notify me when available?
You might also like