Nabeel King of Jasmine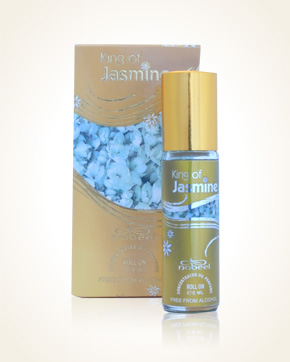 Nabeel King of Jasmine
Concentrated Perfume Oil 6 ml
Out Of Stock
Concentrated Perfume Oil Sample 0.5 ml
In Stock
Description
A pocket pack of oriental perfume, the big advantage of which is the small size (6 ml of perfume), so it fits in the smallest purse or pocket. In addition, perfume is very easy to apply using a ball in the bottle cap. So you can always have your favorite fragrance with you.
The intoxicating intensity of the graceful white-blooming flowers of jasmine, orange flowers and ylang-ylang is captivatingly charming and with a very long duration of fragrance. In full perfume, there is also a gentle trace of musk for smooth smoothing.

Customer Reviews (3)
Nabeel - King of Jasmine - has been repeatedly purchased. I love jasmine and this one is breathtaking, dense, opulent sambac, many niche can envy the authenticity and nature of jasmine in bloom and stamina. Addictive fragrance ... continuing next in terms of other pieces. Have a nice summer in Anabis and say hello to Lenka, your dependent and returning customer (July 9, 2019 - Sylva F.)

King of jasmine-this is a charge of jasmine, the aroma is rich, dense and very intense. (October 7, 2017 - Zdena B.)

Hello, thank you for the quick delivery and gifts. King Of Jasmine is really "king" of jasmine ... :-) is hoooooooodně strong smell, in the morning I put 2x on my wrist and 1x on my neck under the hair ... still in the afternoon, who came to us at the accounting office asked where we have those flowers that smell in the office ... :-) Very nice smell, but really strong, so I think it will last until ... When I compare it to White Full, which I must never miss, so White Full is pretty gentle against her, as if she had musk ?, cream?, something like that, but King of Jasmime is a bunch of jasmine. I try today with Musk Abyiad from Afnan and it is soft and different, really thank you for the "great" smell, which can be seen can be mixed with another and is very nice. (14/07/2016 - Marie B.)

Have you tried one of our perfumes?
Let us know
how you like it!
You might also like