Al Haramain Khaltath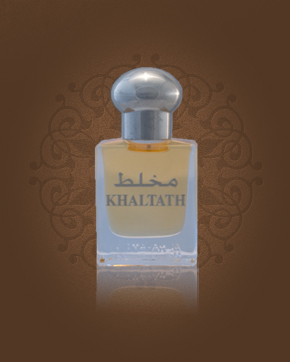 Al Haramain Khaltath
Concentrated Perfume Oil 15 ml
Out Of Stock
Concentrated Perfume Oil Sample 0.5 ml
Out Of Stock
Notify me when available?
Description
Pocket package of oriental perfume (15 ml CPO) in a bottle with a ball for easy application.
Orient with its typical aroma of spices, star anise, cinnamon and vanilla. Roses and jasmine spread out with the musk, which is shown here together with the soft amber. In the next stages, as perfume develops, it becomes a very intense fragrance with the magic of sanatal wood.

Customer Reviews (3)
Al Haramain: Khaltath (Coromandel in the Gutter) It was sometime this time, in the summer heat, when I set out to present Arabian fragrances and settle there at the table with perfume bottles from which my eyes went. Aside, there were a few poor men in cheap glass bottles, tucked in even cheaper cigarette boxes. In addition to all those golden monsters and other objects of adoration, they looked so poor that no one wanted to try. Finally I overcame myself and reached for Khaltath. Perhaps it was the best thing that stood on the table. Beauty built on contrasts - Khaltath is unforgettable and recognizable in a split second even without a trained nose. How many perfumes can be claimed? It is due to its unforgettable blend of three different streams, which it combines with absolute self-evidentness and smoothness into an irritatingly attractive disharmony. It's like taking the Coromadel from the exclusive Chanel range and dripping it into a rusty gutter clogged with a scoop of thick moss. Of course it does not belong together, but on the other hand, beauty has always been emphasized by contrast with ugliness and here it works. There is bitterness from the rusty gutter, it's the taste of the brass handle. Moss - no lichen, but a really juicy scoop - adds earthiness and dirt. All together, a demonstration of the decay and ephemerality of things, over which an exquisite confectionery made of homemade cream and flower honey perched unexpectedly, without being smeared or hurt. Perfect, just marvel. Small but strong - The aroma is just lazily moving from a feeling of freshness to a mature form of dry wood and frosting dry flowers. Consumption is very low at the monumental power of Khalthat, and is also in an economical oil version. It is probably unisex and I would say that children can enjoy it, because of the atmosphere of mystery and its sweetness. (01/09/2013 - Dzona)

Khaltath is a beautiful floral composition in which everything is guided by the harmony of a strong-smelling rose and a subtle muscular foundation, although the opening tones are in a completely different spirit. They are deep, irritating and dark green, like a water-soaked moss growing in a blackened tree bark. The damp woody aroma becomes a mysterium for a few moments and enslaves all attention. What is the secret to be revealed? But the answer is innumerable. Like fantasy images. Through the dense crowns of trees, the sunbeam breaks through the forest. All the secrets follow the retreating gloom, and this whole dreamlike image may be a metaphor for slow fragrance clarification. Khaltath spills into increasingly lighter shades, thickens, and acquires a smooth, oily consistency that no longer changes. It remains pastel white with a slightly pinkish aura. (14/12/2012 - Dalia)

Being Khaltath's poems, so in the verses the anaphor will sound… Being Khaltath's poems, being the prettiest words, so I'll still want to read them. To be Khaltath poem, to be written by anyone ... so I wish my time to stop, to be only now and dream in silence. (14/12/2012 - Dalia)

Have you tried one of our perfumes?
Let us know
how you like it!
Notify me when available?