Al Haramain Khaltat Maryam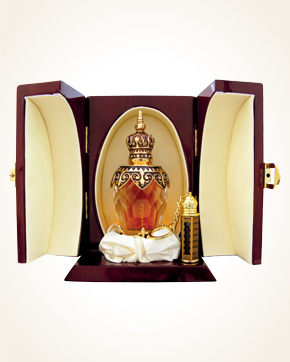 Al Haramain Khaltat Maryam
Concentrated Perfume Oil 24 ml
Out Of Stock
Concentrated Perfume Oil Sample 0.5 ml
In Stock
Description
Another perfume, from the exclusive collection, awaits your unusual experience, which you will feel immediately with the first drops of oriental fragrance.
This perfume belongs to the top of mysteriously composed essential oils, into a surprisingly soft sounding whole.
Master perfume presents us with roses with jasmine, to their full sensation is used here and orange flowers and lilies, and a little bitter cedar is hiding here.
Strong to sharp perception of the initial scent, after a while smoothes into a pleasantly flowing wave of amazing composition of floral perfume, where you will find a trace of sandalwood and musk.
Sweet oud oil together with Turkish rose creates a truly magical fragrance that directly shoots you to the top of the perfume experience, which will enhance its great durability.

Customer Reviews (7)
It didn't stop me from comparing this scent to her mother sister, Khaltat Al Maha. Both are sublime and ultimately subtle, but each happens in a different way. While Al Maha relies on sleek behavior from beginning to end, Maryam must make herself properly known and stressed as an Arab, as she should be. First, he opens his lavish floral heart with a hint of currant sour; of the flowers, the orange blossom, rose and iris are the most popular. I'm looking for a lily, but it's standing somewhere in the background… maybe it's good here. When Maryam shouts to the world that she can afford the most expensive flower essences, she takes to heart the wood, patchouli, and tone I call wind musk (would anise?). Basically, I was enchanted by the cedar and patchouli, which I usually watch out for; it is pleasantly soft here, as much as its earthiness allows. After a while, the individual components stop shouting and everything fits into one harmonic whole. Maryam is not as soft as she looks and her endurance is proportional to the content of quality natural ingredients. It disappears from my wrist relatively quickly, but when applied to the décolleté, behind the ears or on the bottom line of the hair on my neck, I know about it all day. I can't say which of the two sisters is prettier. Why too? (03/11/2020 - Petra P.)

Khaltat Maryam - evaluating from a sample-oil is nice to me only after application, then it changes to a gentle, quite indistinct. My opinion is probably that this perfume is mainly used by a magnificent bottle and a luxury cassette (07.10.2020 - Zdena B.)

Hello, Today I received an envelope with a sample of Khaltat Maryam perfume. I immediately tried it, and to tell the truth, the smell is gorgeous and enchanted. At the beginning I felt incense and after a few minutes the perfume developed into a floral-woody fragrance. 27.1.2017 - Iveta S.)

... before Christmas I got acquainted with Arabic perfumes and I was absolutely blown away. I have a proven Khaltat Maryam from a friend ... amazing smell. I watched an excerpt from a TV broadcast and I think I've decided to go for it. (02/02/2014 - Jarka S.)

KHALTAT MARYAM is a really beautiful perfume, a complete bomb. I haven't had that kind of perfume to make it smell wonderful and look like a great treasure from the Tale of the Thousand and One Nights. (Aug 16, 2013 - Veronika H.)

Perfumes from you are "another class" and somewhere else. I have never known a more magical perfume than Khaltat Maryam. This is absolutely a step into the "heaven" of perfume craving and fulfilled wishes ... (14/12/2011 - Soňa K.)

Her excellence - this is what she called it in the magazine, yes they are right Khaltat Maryam, is something unreal. I collect fragrances, for their fragrance, for beautiful perfume bottles, and for you I have discovered heavenly treasures. This perfume is perhaps a work of art, a box opening a treasure, I can't blame it, it's so different, so beautiful, so special. (11/25/2011 - Lucie H.)

Have you tried one of our perfumes?
Let us know
how you like it!
You might also like