Al Haramain Khaltat Al Maha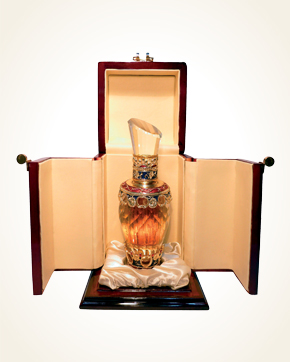 Al Haramain Khaltat Al Maha
Concentrated Perfume Oil 24 ml
Out Of Stock
Concentrated Perfume Oil Sample 0.5 ml
In Stock
Description
Just as the fairy tale gates open from the Orient, so you slowly open a gift box in the form of a box that holds a large, ornate bottle with a mysterious perfume. The color is reminiscent of ripe cognac, the viscosity of honey, the smell of the right, genuine orient.
After the first application on your wrist you can feel the very intense scent of patchouli and brandy with oud. Then you will instantly find yourself in the middle of the Arabian marketplace, where you can breathe a wealth of fragrances.
The magic wave mixes spices, incense and incense sticks. The aroma deepens and delivers a mysterious fragrance of slowly smoldering bakhoor, which is matched by chords of precious woods along with a floral echo.
As the perfume settles, so its individual components polish, no longer shout into the world one over the other. Floral touches caress creamy ylang-ylang in harmony with majestic roses.
Directly mysticly woven, so much chanted agar wood will show its strength, whose transformations from the rough introduction will soften to the smooth, velvety-sounding, warm tones of the sandalwood, along with the honey and the bitter scent of unprocessed skin.
Let Khaltat Al Maha wake up in the morning, enchant in the afternoon and stroke in the evening.
The fragrance tells a very long story and ranks your choice of perfume among luxury experiences. The unique luxury that this perfume brings you is enhanced by the amazing stamina and intensity of the fragrance.

Customer Reviews (5)
Everything written about this perfume is true ... and so my evaluation could end because I have no words :-) Anyway, I sign that it is a beautiful, luxurious and harmonious fragrance from the very beginning . It is one of the few fragrances where I do not mind that it changes only minimally over time. He has a beautiful floral heart; I smell, smell, and with my eyes closed, I see a "rose", violet, iris, yellow daffodil and maybe osmanthus (or do I want to have it because I love it?) ), does not need to prove anything to anyone or provoplanově dazzle ... and smells mainly for himself. And the bottle ... is one of the nicest I've ever seen. Too bad the perfume is sold out - for this one I would be willing to "break the piggy bank" :-) (May 1, 2019 - Petra P.)

I'm excited about perfumes, so I try and try and try ... and I smell wonderful. At work I got the praise today that I smell wonderful and the whole corridor behind me. I was scented with the perfume of Kalthat Al Maha - it is absolutely amazing and I must say that I smell more than Kalthat Maryam. Although I do not allow it either. (07/07/2014 - Jarka S.)

I like both perfumes - Khaltat Maryam and Khaltat Al Maha, which I try more now. Khaltat Al Maha is like Louban or Oud Shiny by Montana, but being oil-like is a delicacy, it's like eating a truffle soup - which is also a very expensive delicacy I eat when I eat, so it is gone forever :-) If I have Khaltat Maryam or Khaltat Al Maha, or both prefer, then I will last for a while and I can enjoy their divine beauty for a longer time. Khaltat Maryam is more subtle or more oriented, but both are Gorgeous (December 9, 2012 - Sylva F.)

Khaltat Al Maha - this is probably Al Haramain's biggest pearl. Beauty of musk, oud, moss and wood. Then honey, skin, spices, incense. A bit bitter, a little sweet, and above all perfectly harmonized and balanced. Patchouli is beautifully worked and mixed with a drop of cognac. It complements ylang and roses, but very, very subtly, the floral ingredients are kept in check. From a distance you can feel only a gentle whiff of burning bakhoura. Very harmonious fragrance. Stamina unreal. Beautifully merged with the skin, thanks to the unique combination of musk and sandalwood creates the impression of a "second skin" One of the most beautiful and typical non-sweet orientals ever. Here the price corresponds to the quality, not to mention the beauty of flacon. (Jul 23, 2012 - Dana N.)

... I'm directly excited. I pulled the Khaltat Al Maha out of the box with shaking hands - a wonderful fragrance, a wonderful package, what else to say. I have just dropped on my hands and I still smell, it's a narcotic smell and is still developing, so that I forget the remorse and the problems that still report. It is a truly liberating scent of oblivion ... (18/07/2012 - Ivona N.)

Have you tried one of our perfumes?
Let us know
how you like it!
You might also like