Khalis Rose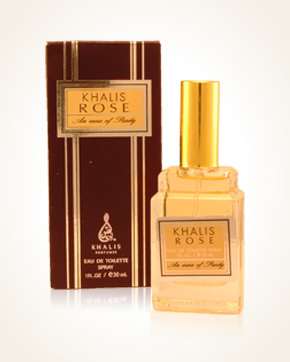 Khalis Rose
Eau de Toilette 30 ml
Out Of Stock
Eau de Toilette Sample 1 ml
Out Of Stock
Notify me when available?
Description
The delicate aroma of the Bulgarian rose with a fruity echo will accompany you at the beginning and throughout the fragrance.
The irresistible rose is wrapped in the gently sparkling nuances of bergamot and lemon grass. Excessive freshness warms gently with a sensual musk, which is again carried on a bed of seductive roses.

Customer Reviews (2)
Khalis Rose - great thanks for this gift that I got to order. It is a beautiful and irresistible scent of roses with freshness of lemon grass, warmed by musk. Being EdT, it has a charming and endlessly long endurance. (June 21, 2015 - Miloslava P.)

Strawberry: Rose Khalis - Wild strawberries, I realized along with roses when I smelled for the first time. Such mature or overripe, already wound. You can feel them just a little while longer and they will melt hot…. into the cream. It is already known in them, cream not from the confectionery pot, but rather similar, which can resins like labdanum or elemi. And, most astonishingly, a rose with those strawberries does not merge into a heavy-weight gourmet conglomerate, but just cleverly and send each other the best of the scents they can. Just like sitting on that trap where it smells beautifully the other side and you don't know where to turn your head first. Khalis Rose is distinctive, penetrating, strong and long-lasting. And it's toilet water. (28.4.2015 - Dzona - Breakfast in Perfumery)

Have you tried one of our perfumes?
Let us know
how you like it!
Notify me when available?