Khalis Red Rose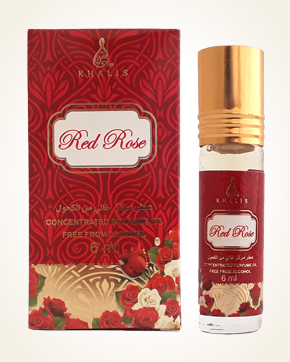 Khalis Red Rose
Concentrated Perfume Oil 6 ml
In Stock
Concentrated Perfume Oil Sample 0.5 ml
In Stock
Description
A pocket pack of oriental perfume, the big advantage of which is the small size (6 ml of perfume) so that it fits even the smallest handbag or pocket. In addition, perfume is very easy to apply using a ball in the bottle cap. So you can always have your favorite fragrance with you.
For lovers of scents full of roses and musk, this is a fragrant treasure. The aroma conceals rosehip shrubs with whitish and slightly pinkish flowers, pink-red buds, which blend silk with irresistible musk and a little vanilla. The smell is carried in powdered sensual tones.

Customer Reviews (5)
Hello, I received a bag full of samples for my birthday a month ago. When I tried the scent, I really like it, that's why I found your e-shop. ... and last week I made my first (and now I know it's definitely not the last :-) order from you. I am enchanted by the tenderness, softness and powder of Khalis Red Rose. This is such a bud rose with full arms of musk, it is beautiful and that endurance !!! It reminds me a lot of Flower by Kenzo, but the little oil is perfect that I carry it everywhere from Friday with me, so it looks like I will have to order more packaging in stock :-) Have a nice summer (28.07.2020 - Lenka D.)

Hello, Red Rose is a delicate and very graceful fragrance that directly invites you to wrap it in. It's like a flower bud in the morning when it hits the first rays of the sun and it still does not know whether to pay homage to the new day with its fragrance or to stay in a hiding way ... so this smell is really soft caress. vanilla and roses, but only buds, with a delicate fragrance, maybe reminds me a bit of Flower by Kenzo in a toilet, here is more creamy rose and Red Rose is even more cuddly ... Thank you again for her. (28/10/2017 - Andrea B.)

Khalis Red Rose, rose, rose, rose ... first rose and after half an hour powder ... well, great, in the evening before bed I was painted and in the morning I still feel it ... for me 1 s ... noo, na phone is not an asterisk, so you have + ... thanks (06/10/2017 - Jana C.)

Khalis Red Rose - tender, delicate, refined lipstick powder. A large puffy cloud of powder that leads to refined elegance through tender pinkish buds. Powder addicts come into their own. I recommend. Can be ordered blind. For me, a complete bomb. (10/26/2014 - Martina M.)

Khalis Red Rose - cream, the most creamy! It smells like opening a crucible with Nivea and added a light powder tint. Splendor! She will be one of my favorites. Who likes delicate fragrances is exactly it. (06/09/2014 - Jiřina K.)

Have you tried one of our perfumes?
Let us know
how you like it!
You might also like