Khalis Ilham Al Aashiq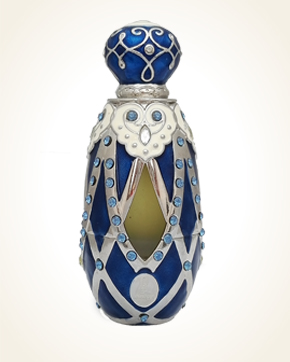 Khalis Ilham Al Aashiq
Concentrated Perfume Oil 20 ml
In Stock
Concentrated Perfume Oil Sample 0.5 ml
In Stock
Description
Irrepressible captivation permeates the breathtaking fragrance of Ilham Al Aashig. Right in the opening chords of this fragrant concert, you are attracted to smell the white-blooming Jacobite rose with citrus caress of juicy grapefruit and fresh bergamot.
Another of the floral arias turns to embrace the tones of jasmine and iris, to which is added a sweet-sounding tangerine with apricot, sprinkled with shavings of delicious chocolate.
Cedarwood is completely melted into the almond vanilla fragrance of heliotrope, the sweetness of which is enhanced by the sweet-sounding gourmet vanilla.
At the same time, tenderness and intensity are represented in the final parade - a heady sensual musk with earthy-sounding herbal-spiced patchouli notes.
Ilham Al Aashiq is an irresistible game that brings you charming seductiveness, elegance and refinement.

Customer Reviews (5)
Khalis Ilham Al Aashiq - this is a rock. True Orient. Heavy strong smell, rather evening. They say there are a lot of citrus - yes, but it's not the fresh acidity of lemons or limes. There's a bitter orange peel and grapefruit. Then there's chocolate with a pinch of vanilla. And jasmine - the heavier one, Muglerian Alien, that makes me feel a little sick ... I fell in love with a bottle and bought a large package blind. I have a little problem with this fragrance, but it still attracts me. I think I still have to ripen it for perfume ... (27/08/2018 - Helena W.)

KHALIS ILHAM AL AASHIQ - words like refinement, elegance, luxury are right there despite the incredibly low price. Flakonek is fabulous and its content as well. I applied a drop of perfume yesterday around four in the afternoon and still this morning the smell was absolutely clear! With the endurance Ilham ranks among the perfumes significantly more expensive. Only my TOP five can smell so long for me :-D The introduction disarmed me by attacking the intensity of jasmine and the freshness of bergamot, but perhaps in a second the smell was beautifully enveloped by a cloud of musk, which I feel strongly throughout the smell. Gradually the rose buds blossomed in perfume, but only gently, almost imperceptibly. The perfume on my skin is not sweet, rather than chocolate, I feel a delicious, thick chocolate-nut cream, but the kind of non-sweet quality that you can only get in specialized stores. Even from vanilla I perceive her dustiness, together with iris make a lightly powdered tone in the perfume ... Juicy add citruses and interesting puff bitter grapefruit. In the end, the smell is sweetened under the touch of a heliotrope, which I could not determine without description, only his almond vanilla touch. In this position the perfume remains and I long to just soak up its intoxication and quietly be ... (8.2.2018 - Lenka S.)

Ilham Al Aashiq is remarkable for its great fragrance, which consists of an unearthly blend of jasmine and a fruit-chocolate meringue. Jasmine is gentle, but distinctive, perhaps thanks to patchouli and sweet vanilla, and jasmine sheds and permeates the composition and is truly unique. Adding the sweet fruits of apricots and mandarins is their strong link and becomes even more sweet. I have long wondered where I felt something like this, and today I know at work his Lady Glare catches his glare, but for me, Ilham Al Aashiq leads the way. In processing Ilham, thanks to the oil, seems like - somehow, rounded? - more complex, oil design gives him a kind of refinement that I miss in the spray of the perfume mentioned above, perhaps with alcohol? I don't know, it may be a daring shot of me, but I feel it. Both scents are, of course, worthy of obeisance, both are great in their processing, but for me yours - Ilham Al Ashiq - wins. (11/3/2017 - Saša S.)

Hello - this is a charge of luxury. And the stamina ... excellent. I perceive the wonderful combination of rose and dark chocolate, it is seductive, it is elegant and it is amazing. Citrus is like somewhere out of the sea market, juicy and full of fragrances, it goes earthiness, a bit like rustiness, but nicely ... the old iron-forging gate I walk through gives off a strange odor, and it mixes with vanilla and musk - and the flacon ... I guess I'm really "obsessed" with your scents, but normally I light a candle with it, then the crystals shimmer even more and the blue color darkens ... chjo ... and those patterns ... I need again two more fragrances ... Beautiful weekend and thank you very much for the cable and all the gifts ... (7/10/2017 - Jitka M.)

This is such a refined oil, when you read the description, it is so. (October 7, 2017 - Zdena B.)

Have you tried one of our perfumes?
Let us know
how you like it!
You might also like