Khalis Arabian Mystery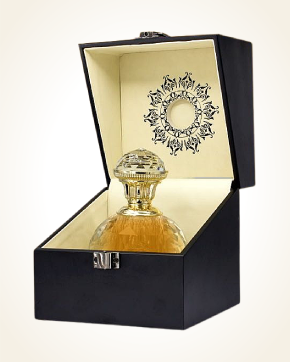 Khalis Arabian Mystery
Concentrated Perfume Oil 20 ml
In Stock
Concentrated Perfume Oil Sample 0.5 ml
In Stock
Description
The Khalis company, in its exclusive Niche line, presents the most luxurious perfumes, hidden in luxurious bottles, which are composed of unique ingredients.
Arabian Mystery perfume is truly a mysterious fragrance that begins with a big bang of oud oil, the power of which is staggering in its intensity, mixing dark mossy greens, penetrating woodiness with a damp echo, all of which represents oud in its bewitching darkness.
However, give this mystical scent of precious resins time to fully develop and it will begin to reward you with the real Orient, which is softly caressing.
Delicious apricots with their velvet line, delicate orange blossoms and sparkling cool lilies of the valley join the saffron and its bitter accord hidden in the leather to the initial harsh onset.
Richness and variability also appear with the addition of majestic ambergris, which warms the scent with a note of honey and cools it with the help of cedar wood.
The fragrance is like a chameleon, it changes, it resonates with you, showing woods and flowers, where smoothness and sweetness intertwine, and a strange, slightly bitter aroma with a green trace of patchouli
.

Customer Reviews (1)
Smelling Arabian Mystery is like riding a fairy-tale flying carpet. It will take you to the perfumer's workshop, who is just opening bottles with ambergris and musk, to an oriental market saturated with the scent of spices, to a forest with rare woods and the earthy smell of moss, to a blooming meadow, to the sheikh's garden full of intoxicating flowers and to the princess's boudoir, where on the table, a bowl of fruit covered in honey... The colors and smells make your head spin, but you can't and don't want to stop and fly on and on... The creators of Arabian Mystery obviously found inspiration in the legendary Khaltat Al Maha and created an authentic Orient that honors the tradition of the Arabian perfumery with everything that goes with it. Such a fragrance has a chance to become family silverware; for the one who made it and for the one who wears it. (16/11/2022 - Petra P.)

Have you tried one of our perfumes?
Let us know
how you like it!
You might also like